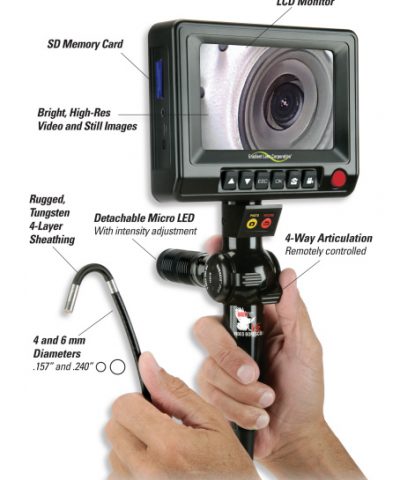 Research Electronics International, LLC (REI) is one of the world's leading manufacturers of Electronic Detection and Testing Equipment for Security Applications.
Based in Cookeville, Tennessee, USA, REI specializes in Radio Frequency (RF) Detectors, Non-Linear Junction Detectors (NLJDs,) Telephone & Line Inspection Equipment, Audio Security Equipment (including Acoustic Noise Generators,) Video Inspection and Physical Inspection Equipment to locate Electronic Bugs or Eavesdropping Devices.
CSSPakistan in proud association with REI LLC brings you Hawkeye® V2 Deluxe Video Borescope.
Durable & Flexible Video Borescope
The Hawkeye® V2 Deluxe Videoscope Kit contains a bright, high-resolution, and durable camera that delivers sharp, clear photos and videos in a wide range of demanding inspection applications. The large 5″ LCD screen provides detailed close-up views, includes a 2x zoom functions, mirror image capability, and easy-to-use intuitive controls. This allows teams to quickly and easily inspect difficult and hard-to-reach areas.
A new cutting-edge articulation mechanism has been designed for this borescope, and it has increased the range to +/-150 deg. The insertion tube has rugged, 4-layer construction, with a crush resistant stainless steel inner layer, and an abrasion resistant Tungsten outer layer which is urethane impregnated for smoother insertions. New optional 90º DOV Prism Tip works seamlessly with the V2.
1. Applications
Aircraft & Power Generation maintenance teams can quickly and easily inspect turbine blades, combustion chambers, cooling tubes, and much more, all without the need for costly and time consuming engine and system tear-down. Foundries can inspect for flash, sand, and voids inside complex castings.
Hawkeye V2 Videoscopes deliver the same image quality, portability, and articulation of scopes costing three times as much.
2. Specifications
| | |
| --- | --- |
| Model No. | V2D 060-3000 4 |
| Diameter | 6.0 mm |
| Length | 3.0 meters |
| Articulation | 150° Up/Down, 150° Right/Left |
| Field-of-View | 70° Diagonal |
| Depth-of-Field | 15 mm – ∞ |
| Depth-of-Field w/ CF Tip | 4 mm – 22 mm |
| Direction-of-View | 0°, 90° with optional Prism Tip |
| Sheath | 2 mil Tungsten Braid, durable 4-layer construction |
| Illumination | Detachable Micro LED with intensity adjustment |
| Display | 5″ TFT LCD |
| Camera | 400 x 400 CMOS |
| Interfaces | Mini USB 1.1 and AV/out |
| Power | DC 5v |
| Battery | 2.5 hour run time, Rechargeable Lithium |
| Recording Media | SD Card (up to 2 GB) |
| Digital Photo Format | JPEG (640 x 480) |
| Video Format | ASF (640 x 480), Playback with Windows Media Player |
| Operating Temp. Range | -10C to +80C |
| Storage Temp. Range | -30C to +60C |