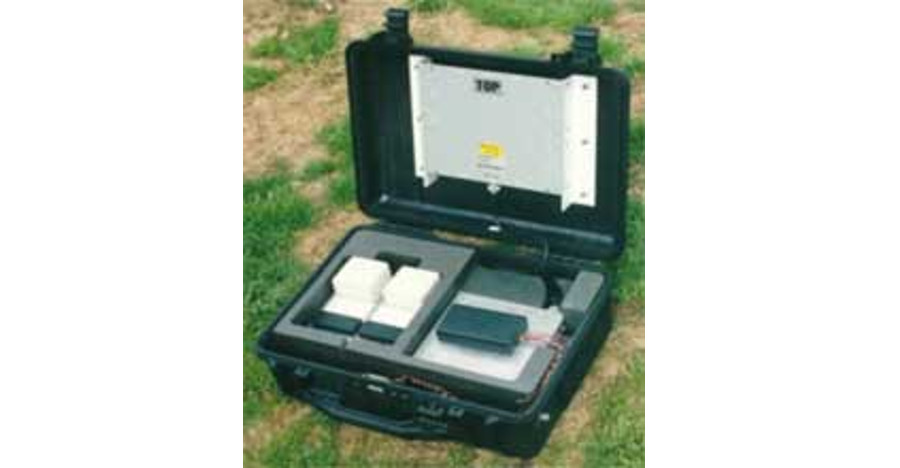 CTN105 BRIEFCASE CELLULAR TELEPHONE JAMMER

The CTN105 is a briefcase-mounted jamming system designed specifically for counter-terrorist activities, anti-bomb squads, special police and covert operations such as usedby anti-drug enforcement units. It paralyses and immobilises the 2 way full duplex RF linksbetween mobile cellular telephones and the local cellular cells with which they arecommunicating.All cellular telephones within the protected area of the activated CTN105 system will be unable toreceive or transmit calls. Other cellular telephones outside the range will not be affected.The CTN105 is designed to jam the downlink cellular signals which are used in the country wherethe jammer has been designated for use. Depending on the country where the CTN105 is inoperation, the equipment can be configured to simultaneously jam single, dual or triple cellularbands.

SPECIFICATIONS

Systems covered:GSM900, GSM (DCS) 1800, Iden/nExtel, CDMA/TDMA: AMPS, N-AMPS,PCS
Input Power:8 Watts
Input Voltage:22W
Casing:Weatherproof and shockproof Milstyle Pelican attache case
Type of Antenna:High gain 9d13 flat type mounted inside lid of case. 3dB beam width 65ºboth vertical and horizontal
Jamming Distance:Up to 250 metres
Size:46 x 19 x 37cm
Weight:14kg
Operating Temperatures: -20 to +50º C
Batteries:Capacity 7Ah to power system for 3 hours+ continuously between charges
Guarantee:2 year
CTN106B HIGH POWER MOBILE AND GPS JAMMER

VIP Protection
120 Watts output
Coverage of open locations
Coverage of prison compounds
Coverage of military and police bases
Isolation of buildings

The CTN106B is a high power RF Jamming system designed specifically for the purposeof paralysing and immobilising the 2-way full duplex RF links between mobile cellulartelephones and the local cellular cells which they are communicating with and also GPSsignals if specified.All cellular telephones within the protected area of the activated CTN106B system will be unableto transmit or receive calls, but cellular phones outside the area will not be affected.The CTN106B is programmed to jam the downlink cellular signal particular to the country wherethe jammer has been designated for use. Cellular systems covered are: GSM900, GSM (DCS)1800, Iden/nEXtel, CDMA/TDMA, AMPS, N-AMPS, and PCS. The CTN106B will also jam GPSsignals. For countires where two cellular systems are in operation, a CTN106B would be requiredfor each channel.The antenna recommended for use with the CTN106B is an omni-directional 360º, 50 Ohmimpedance antenna, 9dB Gain, vertical polarisation, heavy-duty fibreglass.

TECHNICAL SPECIFICATIONS

RF Power Output: 120 Watts
Input Voltage: 220v
Casing19″: Metal Rack
Type Of Antenna: According to suitability of location
Jamming Distance: Can reach several kilometers, depending ontype of antenna used and topography of location.
Dimensions: 38 X 48 X 14cm
Approximate Weight: 11 Kg.
Operational Temperatures: -20 + 50° C
Guarantee: 2 Years
SVJ 8 VEHICLE-MOUNTED DIGITAL JAMMING SYSTEM

The new SVJ8 Vehicle Mounted Digital Jamming system is the most powerful, as well asmost sophisticated, system designed specifically for vehicle-mounted use to protect toplevel VIPs from possible radio controlled bomb devices.The SVJ8 transmits an extremely powerful 1050 watt broad-band composite jamming signalcovering the frequencies between 20MHz up to 1.2GHz, as well as the 1.8GHz cellular telephoneband. This will cause all nearby receivers and transmitters to either become inactive or to activateprematurely at a safe distance – usually at least 250-350 meters from the target, depending on thepower of the activation transmitter and the relative distances involved. As the SVJ8 is completelydigital, it is highly flexible. For example, fully adjustable communication "windows" can beprogrammed into the hand-held controller in a matter of seconds and the signal output power canbe concentrated into particular spot frequencies if required.The SVJ8 has been introduced primarily to provide additional cell phone jamming facility as acounter-measure to the increased incidence of terrorists using cell phone infrastructure todetonate remote control bombs The SVJ 8 Vehicle Mounted Digital Jamming System is thelatest variant of the proven SVJ7 system and has the following features above and beyond thoseof the SVJ7.

?More accurate signal control
?Improved VSWR protection
?Additional cell phone channels centred at 915 &1800MHz
?Built-in output power indicators for each channel
?Dedicated cell phone channel antennas
?Direct digital synthesis controSPECIFICATIONS:
?Frequency coverage: 20MHz – 1.2GHz and 1.8GHz in fourindependent bands:- 20 – 200MHz, 200 – 500MHz, 500 – 1200mHz and 1800 MHz. Dual channels are usedfor the low and mid bands
?Each channel has its own source amplifiers and antenna
?Power supply: 24V DC at a nominal 75Amps is needed for this equipment. This can either be from a vehicle's24V power supply or by separate car batteries and can use 110 or 220V mains power. Absolute maximumsupply – 30V DC
?SVJ8 is effective against SC, F3, F3E, A3B and most RC types of radio, as well as all cellular telephones
?Temperature: -10 to +50 degrees Celsius
?Humidity: 5% to 85% RH
?Output: 1000 Watts nominal +5% – 10%
?Dimensions: 320(h) x 790(l) x 320(w) mm, including base plate and mounts
?Weight: 75 kgs (excluding antennas)COMPONENTS
?SVJ8 is fitted with anti-vibration mounts and plates with integral cooling fans
?Remote control lead (5m) and remote control panel for in-vehicle control.
?DC input lead
?User-friendly digital programmer
?2 x Vehicle antenna mounts
?2 x Low-band stainless steel whip antenna (2.6m)
?2 x Mid-band high efficiency antenna contained in luggage roof rack
?1 x High-band antenna (250mm) – contained in luggage roof rack
?2 x Lo-band high efficiency matching units
?Comprehensive installation and commissioning instructions are provided. Alternatively, installation andcommissioning can be provided "in country".
CPB-1010

Mobile Phone Jammer 8.0W

It can be applied at meeting room, conference room, museum, gallery, th eatre, concert hall, church, temple, restaurant, classroom, training center, factory, bank, train, bus, etc. For some locations of special purpose such as hospital, gas station, etc., please do field test first to make sure no interference happened to th e normal operation of th eir equipment and instrument..*.It' easy to install and operate th e device. No adjustment is needed*.If not well paralyze happened, please change th e installation location or position or to check if any cellular control stations or repeaters installed just in nearby .

Specifications

Output
Frequency
Average Output Power
Channel Output Power
CDMA
870-880MHz
33dBm
6dBm/30KHz (min)
GSM
930-960MHz
33dBm
5dBm/30KHz (min)
DCS
1805-1850MHz
33dBm
2dBm/30KHz (min)

PHS or CDMA1900

1900-1915MHz or 1975-1980MHz

33dBm
2dBm/30KHz (min)
Power Supply
AC adapter (AC220V-DC5V)
Shielding Radius
(20-50)meters ? 75dBm
Rules of installation
UL (E190582) CSA (LR 112971 Level 3)
Dimension
(width , height, length ) 190*50* 170mm
Warranty
1 year
Working time
After works for 24 hours,Need close at least five minutes. Prevents the jammer too hot and burn out.
CPB-1020

Mobile Phone
Breaker/Jammer/Immobilizer

It can be applied at meeting room, conference room, museum, gallery, th eatre, concert hall, church, temple, restaurant, classroom, training center, factory, bank, train, bus, etc. For some locations of special purpose such as hospital, gas station, etc., please do field test first to make sure no interference happened to the normal operation of the ir equipment and instrument..*.It's easy to install and operate the device. No adjustment is needed*.If not well paralyze happened, please change the installation location or position and check if any cellular control stations or repeaters installed just in nearby .

Specifications

Output
Frequency
Average Output Power
Channel Output Power
CDMA
870-880MHz
33dBm
6dBm/30KHz (min)
GSM
930-960MHz
33dBm
5dBm/30KHz (min)
DCS
1805-1850MHz
33dBm
2dBm/30KHz (min)

PHS or CDMA1900

1900-1915MHz or 1975-1980MHz

33dBm
2dBm/30KHz (min)

Or choose3G

2110-2170MHz

33dBm
2dBm/30KHz (min)
Power Supply
AC adapter (AC220V-DC5V)
Shielding Radius
(20-50)meters ? 75dBm
Rules of installation
UL (E190582) CSA (LR 112971 Level 3)
Dimension
(width , height, length ) 190*50* 170mm
Warranty
1 year
Working time
Without the time limit,May Continue to work
CPB-1000

Mobile Phone
Breaker/Jammer/Immobilizer

Specifications

| | |
| --- | --- |
| Tx Frequency | 851/869 – 894 MHz |
| | 925/935 – 960 MHz |
| | 1805 – 1930/1990 MHz |
| | 2100 – 2170 MHz |
| Cover interface standards | Digital: IDEN TDMA, CDMA, GSM, UMTS |
| | Analog AMPS, NMT, N-AMPS, TACS |
| Total output power | Hi: 4.0W( 800: 1.0W, 900:1.0W ,1800-1950:1.0W ,2100-2200:1.0W ) |
| | Low: 2.0W( 800: 0.5W, 900:0.5W ,1800-1950:0.5W ,2100-2200:0.5W ) |
| Signal Source | PLL synthesized |
| Antennas | External Omnidirectional |
| Every band frequency can select output power Hi & Low by Dip SW | |
| All the TX frequency covere down link only | |
| Automatic power switching power supply | 50/60Hz/AC 100- 240V transmitting to DC 12V |
| Jamming range | Radius 20 – 25 M |
| | ?the Cellular signal must <-80dBm in the location? |
| | The jamming radius still depends on the strength signal in given area |
| Safety regulation | AC Adapter UL (E190582) |
| | CSA (LR112971 Level 3) |
| Dimension | 197(L)×186(W)×53(H)mm |
| Weight | 1.2 Kg |
CPB-2000

Mobile Phone
Breaker/Jammer/Immobilizer

Specifications

| | |
| --- | --- |
| Tx Frequency | 851/869 – 894 MHz |
| | 925/935 – 960 MHz |
| | 1805 – 1930/1990 MHz |
| | 2100 – 2170 MHz |
| Cover interface standards | Digital: IDEN TDMA, CDMA, GSM, UMTS |
| | Analog AMPS, NMT, N-AMPS, TACS |
| Total output power | Hi: 12W( 800: 3.0W, 900:3.0W ,1800-1950:3.0W ,2100-2200:3.0W ) |
| | Low: 6.0W( 800: 1.5W, 900:1.5W ,1800-1950:1.5W ,2100-2200:1.5W ) |
| Signal Source | PLL synthesized |
| Antennas | External Omnidierctional |
| Every band frequency can select output power Hi & Low by Dip SW | |
| All the TX frequency covere down link only | |
| Automatic power switching power supply | 50/60Hz/AC 100 -240V transmitting to DC 12V |
| Jamming range | Radius 40 – 50 M |
| | ?the Cellular signal must <-80dBm in the location? |
| | The jamming radius still depends on the strength signal in given area |
| Safety regulation | AC Adapter UL (E190582) |
| | CSA (LR112971 Level 3) |
| Dimension | 238(L)×186(W)×53(H)mm |
| Weight | 1.6 Kg |
CPB-3000

Mobile Phone
Breaker/Jammer/Immobilizer

Specifications

| | |
| --- | --- |
| Tx Frequency | 851/869 – 894 MHz |
| | 925/935 – 960 MHz |
| | 1805 – 1930/1990 MHz |
| | 2100 – 2170 MHz |
| Cover interface standards | Digital: IDEN TDMA, CDMA, GSM, UMTS |
| | Analog AMPS, NMT, N-AMPS, TACS |
| Total output power | Hi: 32W( 800: 8.0W, 900:8.0W ,1800-1950:8.0W ,2100-2200:8.0W ) |
| | Low: 16W( 800: 4.0W, 900:4.0W ,1800-1950:4.0W ,2100-2200:4.0W ) |
| Signal Source | PLL synthesized |
| Antennas | External Patch Panel Antennas |
| Every band frequency can select output power Hi & Low by Dip SW | |
| All the TX frequency covere down link only | |
| Automatic power switching power supply | 50/60Hz/AC 100 – 240V transmitting to DC 12V |
| Jamming range | Radius 50 – 100 M |
| | ?the Cellular signal must <-80dBm in the location? |
| | The jamming radius still depends on the strength signal in given area |
| Safety regulation | AC Adapter UL (E190582) |
| | CSA (LR112971 Level 3) |
| Dimension | 308(L)×186(W)×53(H)mm |
| Weight | 2.0 Kg |
CPB-4000

Mobile Phone
Breaker/Jammer/Immobilizer

Specifications

Output
Frequency
Average Output Power
Channel Output Power
CDMA
870-880MHz
46dBm
13dBm/100KHz (min)
GSM
930-960MHz
46dBm
13dBm/100KHz (min)
DCS
1805-1850MHz
46dBm
10dBm/100KHz (min)

PHS or CDMA1900

1900-1915MHz or 1975-1980MHz

46dBm
10dBm/100KHz (min)
Power
1000W
Power Supply
AC220V 50Hz or UPS
Shielding Radius

Shielding Radius
(100-350)m@ ? 75dBm

Warranty
1 year
Working time
With out the time limit, May continue to work
CPB-5000

Mobile Phone
Breaker/Jammer/Immobilizer

Specifications

| | |
| --- | --- |
| Tx Frequency | 851/869 – 894 MHz |
| | 925/936 -965 MHz |
| | 1805 – 1990 MHz |
| | 2110 – 2170 MHz |
| Total output power | 120W(800:30W,900:30W,1800-1950:30W,2100-2200:30W) |
| Power Control | 5W/10W/30W |
| Signal Source | PLL synthesized |
| Temperature over protection | |
| VSWR over protection | |
| Working status indicator for each band | |
| RF Cable | GS214/5M |
| Panel Antenna | 15dBi each one |
| Remote Control | RS-485(Option) |
| Cover interface standards | IDEN,TDMA,CDMA,GSM,UMT,AMPS,NMT,N-AMPS,TACS |
| Designed to cut off wave only in the down-link band width,Therefore it doesn't affect any interference to base station and repeater. | |
| Input power | 20~ 28v DC/15~ 20AH |
| Jamming range | Radius 1000 M up ?the signal must ?-80dBm in the given area? |
| Dimension | 500mm(L)×480mm(W)×185mm(H) |
| Weight | 1.8Kg |
| Operating temperature | -20°C ~ + 65°C |
| Humidity | 5?~ 90? |