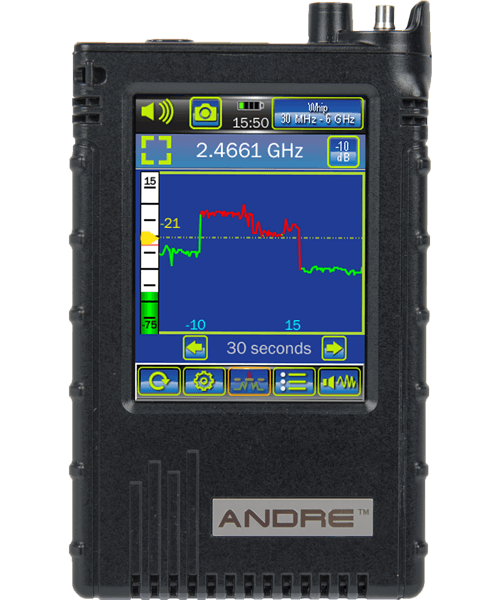 Research Electronics International, LLC (REI) is one of the world's leading manufacturers of Electronic Detection and Testing Equipment for Security Applications.
Based in Cookeville, Tennessee, USA, REI specializes in Radio Frequency (RF) Detectors, Non-Linear Junction Detectors (NLJDs,) Telephone & Line Inspection Equipment, Audio Security Equipment (including Acoustic Noise Generators,) Video Inspection and Physical Inspection Equipment to locate Electronic Bugs or Eavesdropping Devices.
CSSPakistan in proud association with REI LLC brings you ANDRE™ Deluxe Near-field Detection Receiver (ANDRE – Advanced Near-field Detection Receiver.)
Detect Electronic Transmitters
The ANDRE is a handheld broadband receiver that detects known, unknown, illegal, disruptive, or interfering transmissions. The ANDRE locates nearby RF, infrared, visible light, carrier current, and other types of transmitters. Quickly and discretely identify threats using the ANDRE Deluxe's wide range of accessories specifically designed to receive transmissions from 10 kHz up to 12 GHz.
Efficiency: auto-recognition of attached probes displays the correlating frequency band
Usability: 3.5" touchscreen display provides simple setup and operation
Portability: lightweight, handheld unit has a USB data port for file transfer
1. Features
HISTOGRAM DISPLAY: The ANDRE features a signal strength histogram displaying RF levels over user-selected time intervals ranging from 5 seconds to 24 hours. Observe differences between digital, analog, and burst signals and set alert thresholds with audio and haptic feedback.
ZOOM VIEW: In zoom mode, only a 30 dB segment of the histogram is displayed. This reduced scale enables users to easily see small changes in RF signal activity.
SIGNAL INFORMATION AND BAND DETAILS: The ANDRE frequency counter automatically generates a signal list from the strongest signals. Signal frequencies are listed beginning with the strongest signal, and can be designated as threatening, friendly, or unknown. Double-tapping a signal provides more details including band classification information.
AUDIO MODE: The ANDRE can demodulate and playback live analog audio. Ten second audio files can be recorded, stored, and played back. The live audio screen displays a bar graph showing received signal strength.
DATA LOGGING (Deluxe feature): This new software feature provides histogram data for downloading to a PC and viewing on the ANDRE Data Viewer. Captured information includes time/date, signal amplitude, user settings, probes, chart duration and detailed frequency band information.
2. Applications
Technical Surveillance Countermeasures (TSCM)
Counter Surveillance
Broadband Detection
Near-field Transmission Detection
Intelligence Protection
Executive Protection
Eavesdropping Detection
Surveillance Equipment Detection
Electronic Surveillance Detection
3. Specifications
RF DETECTOR
Sensitivity:
-75 dBm for 3 GHz frequency (typical at RF input)
Stepped attenuation control: -20 dB, -10 dB, off, +15 dB
AUDIO
Built-in speaker and external headphones with adjustable volume control
Tone style options: rising pitch, steady tone, off
DISPLAY
3.5" (4 cm) capacitive touch screen
Screen brightness: High, Medium, Low
INPUT/OUTPUT
USB data port for software upgrades and file transfer
POWER
Input: USB internal charger
Run time: >5 hours (typical)
Charge time: 1.5 hours (typical) for 80% charge, <3.5 hours (typical) for 95% charge
Batteries (4 included with Advanced and Deluxe): Nitecore 18650 Lithium Ion Rechargeable Battery Model #NL189, rated 3.7V, 3400mAh, 12.6Wh
External USB charger included
MECHANICAL
Case dimensions: 6.25 in x 14.9 in x 18.5 in (15.9 cm x 37.8 cm x 47.0 cm)
ANDRE dimensions: 3.4 in x 5.7 in x 1.0 in (8.7 cm x 14.4 cm x 2.5 cm)
ANDRE weight with batteries: 0.65 lbs (0.3 kg)
Case weight with ANDRE & all accessories: 12.7 lbs (5.8 kg)
THERMAL
Operating temperature: -10° C to 50° C
Battery charging temperature: 0° C to 35° C
Storage temperature: -20° C to 50° C
Note: extended storage at temperatures above 40° C could degrade battery performance and life.
6. Data Viewer Software
Post-Sweep Analysis Tools
REI's DataViewer is a PC application that uses the Data Logging files from your ANDRE Deluxe to generate histogram charts. The information stored by the Data Logging feature includes time/date, signal amplitude, user settings, probes, chart duration, and detailed frequency band information.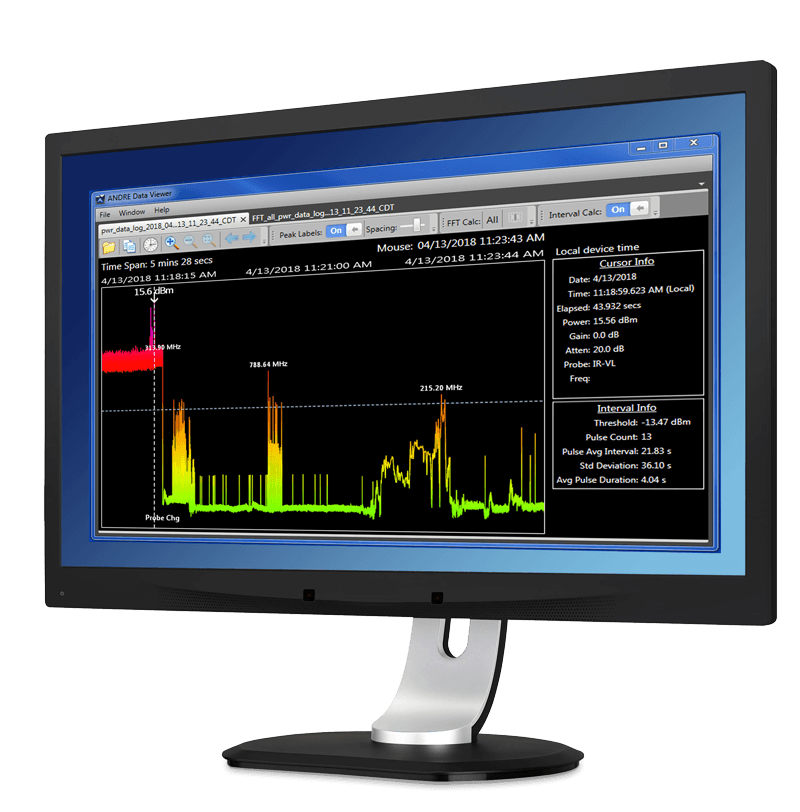 Users can select to use Data Logging in three optional modes:
250 hours and 500ms resolution
25 hours and 50ms resolution
30 minutes and 1ms resolution
The Data Viewer application paired with the Data Logging feature provides a powerful post-sweep analysis tool enabling users to keep and review sweep data even when they are no longer on location.