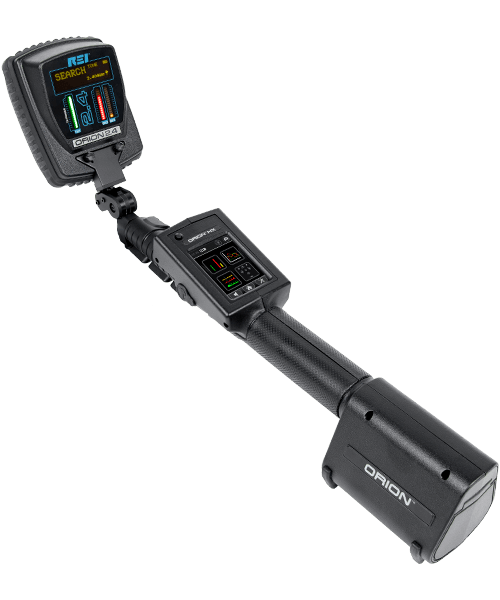 Research Electronics International, LLC (REI) is one of the world's leading manufacturers of Electronic Detection and Testing Equipment for Security Applications.
Based in Cookeville, Tennessee, USA, REI specializes in Radio Frequency (RF) Detectors, Non-Linear Junction Detectors (NLJDs,) Telephone & Line Inspection Equipment, Audio Security Equipment (including Acoustic Noise Generators,) Video Inspection and Physical Inspection Equipment to locate Electronic Bugs or Eavesdropping Devices.
CSSPakistan in proud association with REI LLC brings you ORION™ 2.4 HX Non-Linear Junction Detector.
Locate Eavesdropping Devices
The ORION 2.4 HX Non-Linear Junction Detector (NLJD) detects electronic semi-conductor components in walls, floors, ceilings, fixtures, furniture, containers, or other surfaces. The ORION 2.4 HX NLJD is made to detect and locate hidden cameras, microphones, and other electronic devices regardless of whether the surveillance device is radiating, hard wired, or turned off.
Efficiency: shorter wavelength of the 2.4 GHz model does better at detecting modern, surface-mounted circuitry in normal office environments
Usability: multiple alert methods are available with a line-of-sight antenna mounted display to allow users to visualize target and display simultaneously
Portability: lightweight design is under three pounds and no assembly is required with an integrated telescoping pole
1. Features
Digitally modulated transmit signal, correlated 2nd & 3rd harmonic response, and adjustable DSP gain provide improved detection & minimize interference (patent pending)
Histogram graph displays continuous history of harmonic response and power adjustment (patent pending)
Touch screen displays the full RF spectrum for transmit, 2nd, or 3rd frequency ranges
1.25 MHz-wide bandwidth transmit signal increases detection sensitivity
Alert tones and haptic (vibration) alert can be selected to alert when signal levels surpass the trip levels
Line-of-sight antenna mounted display and LED head lamp allows user to focus eyes on sweeping target and display at same time, even in dark areas
Small, lightweight design weighs only 2.8 lbs/1.3 kg
No pole or cable assembly required with integrated telescoping pole
A synthesized transceiver with frequency stability and agility to automatically search for clean operating frequencies (2.404 GHz – 2.472 GHz)
Circularly polarized transmit and receive antenna removes the risk of missing a threat due to incorrect antenna polarization
2. Applications
Technical Surveillance Countermeasures (TSCM)
Counter Surveillance
Non-Linear Junction Detection
Locating Hidden Electronics
Locating Electronic Contraband
Intelligence Protection
Executive Protection
Eavesdropping Detection
Surveillance Equipment Detection
Electronic Surveillance Detection
3. Specifications
TRANSMITTER
Transmit power*: 3.3 W EIRP; G model: 6.6 W EIRP
Power control: Manual or auto control
Frequency band: 2.404 GHz – 2.472 GHz
Transmit channels: Manual or auto selection
Transmit modulation: Digital 1.25 MHz bandwidth
*G model available to entities, agencies, and persons not restricted by FCC/IC. Both power levels are CE marked for public safety and security.

RECEIVER
Simultaneous 2nd & 3rd harmonic receive
Digitally correlated
Frequency bands:
Second harmonic (4.808 GHz – 4.944 GHz)
Third harmonic (7.212 GHz – 7.416 GHz)
Sensitivity: -140 dBm for both harmonics
DISPLAY

Handle-mounted 2.7 inch touch screen controller display**
Antenna-mounted display
Bar graph display for transmit power level, 2nd harmonic level, 3rd harmonic level, data field display, for other information (operation mode, low battery, volume, DSP gain, etc.)Note: Orion 2.4 (Keypad Model) Also Available
MECHANICAL
Extension lengths: 16-51 in (40.6-129.5 cm)
Case dimensions: 6.25 in x 14.9 in x 18.5 in (15.9 cm x 37.8 cm x 47.0 cm)
ORION 2.4 HX dimensions: 22.4 in x 3.75 in x 3 in (57 cm x 9cm x 7.5 cm)
Overall extended length: 58 in (147 cm)
ORION 2.4 HX weight with battery: 3 lbs (1.4 kg)
Case weight including ORION and accessories: 12 lbs (5.4 kg)
BATTERY
Input AC: 100-240 V, 50-60 Hz
Run time: >4 hours per battery (typical)
Charge time: 2.5 hours per battery
Batteries: Lithium ion rechargeable (2 included)
The supplied battery pack: RRC Power Solutions Lithium Ion Rechargeable Battery pack Model #RRC2040, rated 11.25V, 2950mAh, 33.2Wh.
THERMAL
Operating temperature: -10 to 50°C
Battery charging temperature: 5 to 37°C
Storage temperature: -20 to 60°C
Note: extended storage at temperatures above 40°C could degrade battery & OLED display performance and life.
5. Included Accessories
Lithium-ion Smart Battery Charger
The Lithium-ion Smart Battery Charger provides additional charging capabilities to the OSCOR Spectrum Analyzers, TALAN 3.0 Telephone and Line Analyzer, ORION Non-Linear Junction Detectors, & VPC 2.0 Video Pole Camera.
Lithium-ion Rechargeable Battery – 2950mAh
A 2950 milliampere hour lithium-ion battery for the following REI products: ORION Non-Linear Junction Detectors, VPC 2.0 Video Pole Camera, & the VPC 2.0 Deluxe.