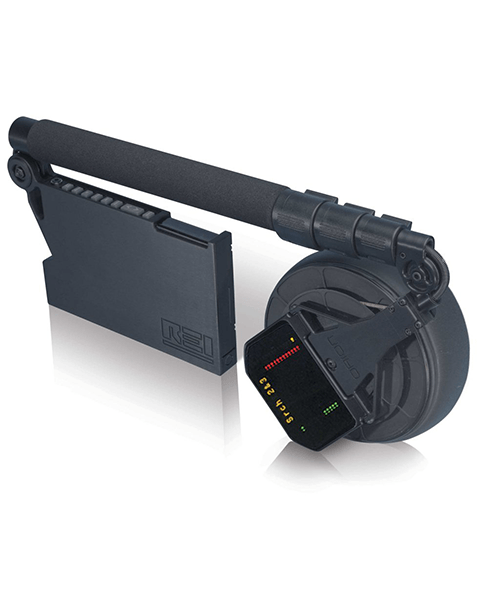 Research Electronics International, LLC (REI) is one of the world's leading manufacturers of Electronic Detection and Testing Equipment for Security Applications.
Based in Cookeville, Tennessee, USA, REI specializes in Radio Frequency (RF) Detectors, Non-Linear Junction Detectors (NLJDs,) Telephone & Line Inspection Equipment, Audio Security Equipment (including Acoustic Noise Generators,) Video Inspection and Physical Inspection Equipment to locate Electronic Bugs or Eavesdropping Devices.
CSSPakistan in proud association with REI LLC brings you ORION™ HGO-4000 Non-Linear Junction Detector.
Locate Listening Devices and Semiconductors
The ORION HGO-4000 is REI's original high gain Non-Linear Junction Detector for special applications. The ORION HGO-4000 can locate listening devices and semiconductors in walls floors, ceilings, fixtures, furniture or containers and provides a user the capability to detect hidden electronic devices, regardless of whether the device is radiating, hard wired, or even turned off.
Efficiency: high transmit power for rapidly searching large areas and the circularly polarized antenna reduces search time and improves reliability
Usability: second and third harmonic operation includes advanced algorithms for minimizing false alarms as well as listening capability for each harmonic
Portability: balanced, ergonomic, lightweight design with no cables or bulky transceiver units to carry
(Note: Above Video is Applicable Both to ORION™ HGO-4000 & ORION™ 2.4 Non-Linear Junction Detectors.)
1. Features
Second and third harmonic operation includes advanced algorithms for minimizing false alarms as well as listening capability for each harmonic
Dynamic power control for locating threats; automatic or manual control
Synthesized transceiver provides frequency stability and agility to automatically search for clean operating frequencies
Circular, polarized antenna removes risk of missing a threat due to incorrect antenna polarization
High transmit power for rapidly searching a large area
Standard camcorder battery with long run time and quick charge functions
Wireless headphones and graphic display for simultaneous audio & visual information
2. Specifications
TRANSMITTER
Frequency bands: 840-915 MHz in 200 kHz steps
Transmit power: 30 milliwatts minimum to approximately 3 watts effective radiated power (ERP)
Power control: manual or auto control with 30 dB range
RECEIVER
Frequency bands: second (1680-1830 MHz) or third (2520-2745 MHz) harmonic of transmit frequency
Sensitivity: -133 dBm for both harmonics
DSP S/W integration: programmable between 6 and 18 dB gain in sensitivity performance
Receiver bandwidth: 3 kHz
MECHANICAL
Extension lengths: 16–51 in (40.6–129.5 cm)
Case dimensions: 6.25 in x 14.9 in x 18.5 in (15.9 cm x 37.8 cm x 47.0 cm)
Unit weight: 3.3 lbs (1.5 kg)
Unit weight with battery: 3.7 lbs. (1.7kg)
Case weight including unit and accessories: 12.8 lbs (5.8 kg)
Setup time (including power-up self-test): 25 seconds
BATTERY
Input AC: 100–240 V, 50–60 Hz
Run time: 3 hours per battery (typical)
Charge time: 1 hour per battery
Batteries: (2 incl.) 7.2 V NiMH
4. Included Accessories
There are currently no accessories associated with this product.