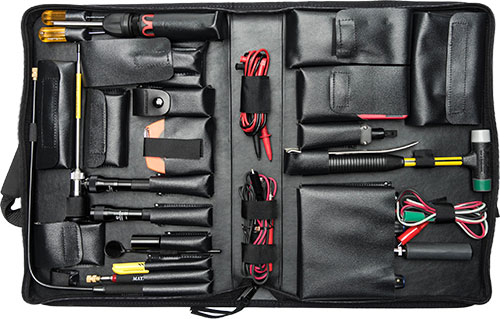 Research Electronics International, LLC (REI) is one of the world's leading manufacturers of Electronic Detection and Testing Equipment for Security Applications.
Based in Cookeville, Tennessee, USA, REI specializes in Radio Frequency (RF) Detectors, Non-Linear Junction Detectors (NLJDs,) Telephone & Line Inspection Equipment, Audio Security Equipment (including Acoustic Noise Generators,) Video Inspection and Physical Inspection Equipment to locate Electronic Bugs or Eavesdropping Devices.
CSSPakistan in proud association with REI LLC brings you OTK-4000 Inspection Toolkit.
Selected Tools to Find Threatening Electronic Surveillance Devices
The Inspection Toolkit contains selected tools for verifying the existence of threatening electronic surveillance devices.
Included tools:
Borescope with built-in light and right-angle viewing for inspection inside walls, furniture, etc.
Wire tracing system to trace miscellaneous cables
Fluke multimeter for testing miscellaneous cables and electronic devices
Combination stud finder and metal detector for non-destructive evaluation
Hammer to evaluate the stability of a junction under the physical vibration
Ultraviolet light and marking pen
Multi-purpose geared screwdriver
Miscellaneous tools including pliers, wire cutters, Leatherman™ multi-purpose tool, inspection mirrors, measuring tape, flashlight, drill bits for walls
Note: some tool models may change due to availability.