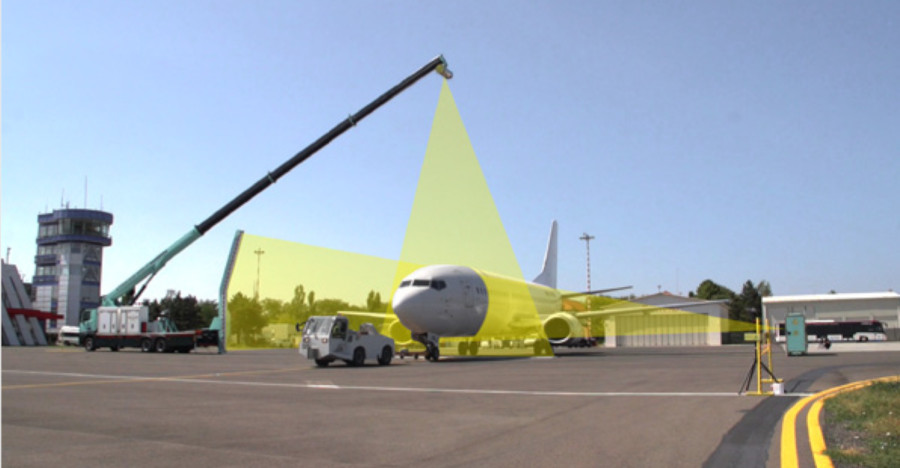 CSSPakistan proudly announces its association with the Swiss Company Tudor Tech which specializes in Aircraft Security Inspections. Tudor Tech's specialized system Aeria DV is designed to scan aircrafts ranging from helicopters and small private jets up to the largest commercial planes, giving the operator the capability to detect within minutes threats, illegal or undeclared goods.
The scanning process is remotely operated inside airport premises with minimal impact for routine operations, without any human exposure to ionizing radiations and is the only fast and efficient technology capable to clear civil aircrafts under bomb threat, being also the only tool capable to fight against contraband with narcotics, explosives, guns, high values and illegal transports of money in cash.
Problem with Physical Security Inspection
The classic method of physical security inspection implies long delays in the streamline airport traffic and reduced chances to find bombs or hidden objects, due to limited access of the security inspectors inside the technical cavities of the fuselage, tail and wings that generates a systemic vulnerability in civil aviation.
The key advantages of TUDOR TECH AERIA DV system
Optimized for entire aircraft screening: the vertical and horizontal scanning frames will deliver clear dual-view radiographies of the fuselage and wings, generating high resolution images with unparalleled details, offering to the end users an essential tool for security applications.
Complete scan of the aircraft fuselage in a single pass through the screening frame and, depending on the aircraft size, complete wings scan with additional passes.
Unparalleled tool for fast clearing of aircrafts under bomb threat.
Highly mobile, can be driven on public roads, from one site to another, without any additional infrastructure requirement, being ready to scan in 20 minutes after arrival on site.
Fully autonomous, no local resources required for operation.
Outdoor operating capability in airport environment regardless climate and weather conditions.
Robotic operation, controlled by one process operator from outside the exclusion area, avoiding professional ionizing radiation exposure.
Total cost of acquisition and operation a few times lower than the losses incurred by airports and airlines forced to manage bomb threats.
Totally safe for avionics components.
Radiation safe for operators and bystanders.
Built-in auto archiving facility and statistic reports capability; operators can create customized databases including images of scanned aircraft.
Automatic Protection of the Exclusion Area (APEA) system.
Compliant with Safety of Radiation Generators and Sealed Radioactive Sources, Safety Guide No. RS-G-1.10 from 2006 issued by IAEA and with EURATOM Radiation Protection Directive 96/29.
Recommended Exclusion Area during scanning operation of minimum 50m x 50m – Exclusion Area perimeter supervised by the Automatic Protection of the Exclusion Area (APEA) consisting in portable infrared barriers.
X-ray generator automatically stops in case of an intrusion.
Radiation dose outside the Exclusion Area is less than the legal limit according to International Regulations, namely IAEA 115/1996.
a. Main Components:
1. Mobile Scanning Unit – integrating the top view X-ray generators and the side view detector boom.
2. Second X-ray generator for the side view.
3. Portable remote operation console.
4. Detector modules with crossing ramps for the top view.
5. Aircraft Tug Mobile Unit.
6. Safety and Security Systems – (Portable) Automatic Protection of the Exclusion Area (APEA) system, video surveillance system.
b. Configurations and Operating Sequences:
1. Transport Configuration – The mobile scanning unit is loaded with all the components of ROBOSCAN AERIA DV ready to be driven to the scanning destination.
2. Scanning Configuration – The components are unloaded from the mobile unit and deployed in designated positions according to the deployment sequence.
1. Imaging Performances
Steel penetration: 50mm.
Penetration in Aluminum (Al): 230 mm.
Wire resolution: 0.5 mm (AWG 24.)
Contrast sensitivity: 4%.
Material discrimination capability: Three classes: organic, inorganic, metals.
TIP (Threat Image Projection): Optional.
2. Operating Performances
Size of the scanned aircraft: From small business aircrafts to short and medium range aircrafts like A-320 or B-737.
Triangle Scanning Frames: Maximum size of Top View frame: 10,3 m (w) and 14,2 m (h); – maximum size of Side View frame 49,4 m (w) by 7,8 m (h); Other scanning frames dimensions by request.
Scan mode: Aircraft tugged through the scanning frame.
Throughput: 3 short to medium range aircrafts / hour 6 small business aircrafts /hour.
Deployment/stowing time: Less than 30 minutes.
Operating personnel: One process operator and one image analysis operator.
Remote operation: Yes, by wireless LAN connection or broadband INTERNET connection (optional.)
Anti-collision protection: Yes.
Special features: Data integration in an higher level Command and Control Centre (optional.)
Continuous Operation: 24 / 7 / 365.
3. Safety
The dose at the limit of the Exclusion Area: Less than 1 mSv/year, according to IAEA, GSR3.
The dose inside the Command and Control Center (CCC): Less than 1 mSv/year, according to IAEA, GSR3.
The dose on scanned aircraft: less than 10 µSv/scan.
Megapixel Video Surveillance Subsystem: Yes (standard.)
Personal Radiation Monitor: Yes (standard.)
Optic and Acoustic Warning Signals during Scanning: Yes (standard.)
Automatic Protection of the Exclusion Area: Yes (standard).
4. Envoironment
Operation temperature range: -15°C ÷ +45°C standard.
Extended temperature range: Available by request.
Storage temperature range: -25°C ÷ +60°C standard.
Relative humidity: Max. 98% non-condensing.
IATA Strategic Partner