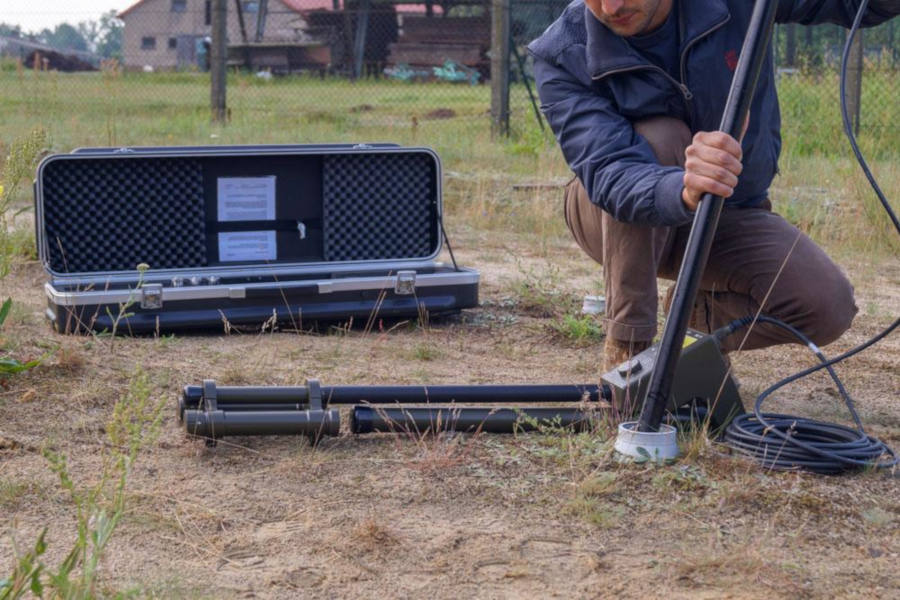 CSSPakistan in association with SENSYS – one of the Leading German Providers of Magnetic and Electromagnetic Survey Systems and Components brings you SBL10 – Bomb Locator with Data Logger.
SBL10 is a very compact handheld magnetometer for UXO search in the field. With only 3.7 kg and a clearly arranged control display, SBL10 is easy and intuitive to operate. Due to its folding mechanism SBL10 needs no assembly and is ready within seconds.
How to Setup Bomb Locator - SBL10
When being used with an additional probe FGM400/38 and cable (simply connected to the top of the SBL10 control unit) the device is ready for borehole or underwater surveys.
The measurement range of both probes is ±30,000nT and enables detection of smallest pieces as well as of deeply buried heavy objects in depths of five to six meters.
Three different modes allow for surveys on clear or noisy ground as well as in front of fences or rails.
Two battery compartments are used in sequence with an intelligent power management to ensure more than 100 working hours with only one set of standard LR20 batteries.
The connection of the additional probe as well as wireless connectable rugged PDA for data recording always keeps the SBL10 as slim as possible but as flexible as needed.
The SENSYS MonSX software on the PDA for data recording also allows for an instant view of the covered field as color coded map. that allows a first interpretation of the operator whilst in the field. On top, all parts fit into a light weight fully rugged casing that is easy to store and transport.
1. General Technical Data
Power Supply
4.5 V
Battery
2×3 batteries 1.5 V single cell LR20
Battery Life
6 batteries = approximately 120 hours
Operating Temperature
-20°C to +60°C
Operating Weight (without casing)
3.7 kg (incl. 6 batteries)
Dimensions (L x W x H) when folded
950 x 130 x 200 mm
2. Measurement Configuration
Visible measurement range
±30,000 nT
Sensitivity levels
9
Display
Analogue pointer with ±10 scale division;
Resolution
0.075 nT at 0.3 nT measurement range
3. SBL10 Probe VS FGM400/38* (optional)
| | | |
| --- | --- | --- |
| | SBL10 probe* | FGM400/38* (optional) |
| Maximum ambient field | ±75,000 nT | ±75,000 nT |
| Specified measurement range | ±38,460 nT | ±38,460 nT |
| Sensor Element Spacing | 400 mm | 400 mm |
| Point of reference | 378 mm**/4 mm*** | 378 mm**/4 mm*** |
| Declination | ±3 nT | ±3 nT |
| Resolution | 0.2 nT | 0.2 nT |
| Noise | <40 pT/√Hz @ 1Hz | <40 pT/√Hz @ 1Hz |
| Cut off frequency (Bandwidth) | 20 Hz | 20 Hz |
| Temperature drift | <0,3 nT/K | <0,3 nT/K |
| Drift over time | t.b.d. | t.b.d. |
| Uncertainty of measurement | 1,000 nT/1%**** | 1,000 nT/1%**** |
| Stability | <1nT | <1 nT |
| Linearity | ±4 nT / | ±4 nT / |
| Compensation range | n.a. | n.a. |
| Probe Diameter | 40 mm | 35 mm |
| IP code | IP65 | IP68K 100m available |
4. Casing
Dimensions (L x W x H)
1,040 x 330 x 180 mm
Weight
5.5 kg
5. Optional Accessories
Rugged PDA (optional with Bluetooth dongle)
For borehole and single channel measurements
Connection cable
15 m, sealed; other lengths on request
Head phone
Customizable cable length
Soft carry bag
1.5 kg (empty)
2-point carry belt