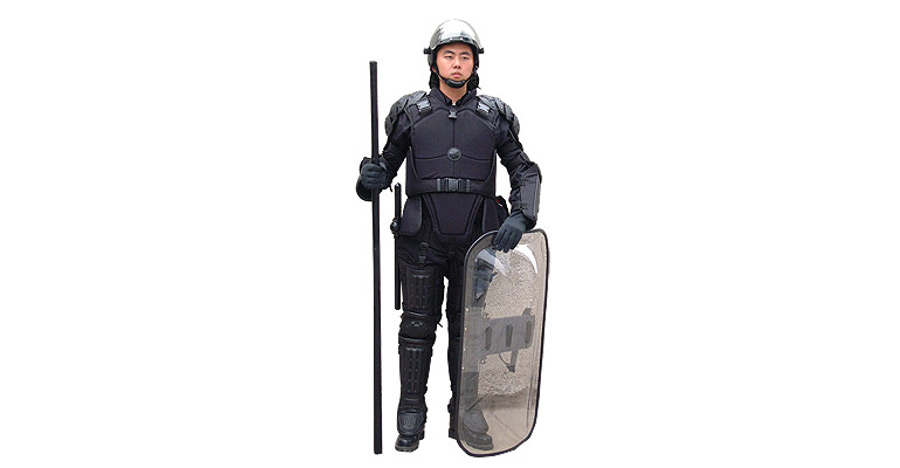 CSS offers tailored security solutions to Government Organizations, Special Task Forces, Army, Air force, Navy, Police and Law Enforcement Agencies.
CSS has developed strong partnerships with product and service providers that share the same vision of exceeding our customer's expectations regarding state-of-the-art physical and structural security.The object of our cooperation is to provide innovative leadership in all aspects of security which means you will get the cutting edge, highest quality, and most cost-effective products.
Anti Riot Suit (Full Set)

Type
CSS 001-2007
Description
CSS 001-2007 anti-riot suit
CSS- CSS 001-2007 antiriot suit can cover most of the body and give the maximum protection. It can bear hard shocks and disperse the potential shock. It has passed the shocking and penetration tests without any penetration or cracks. It also features anti-stab, fire-retardant, acid-resistant and alkali-resistant.
Anti-Riot Suit Assembly
Front Torso (CSS 001-2007-UBPS)
Shoulder & Back Torso (CSS 001-2007-UBPS)
Elbow & Forearm Protector (CSS 001-2007-FA)
Thigh Protector (CSS 001-2007-T)
Shin, Knee & Foot Protector (FB2004-KS)
Right Glove (CSS 001-2007-Gl)
Specification

1) Total weight: About 8kg
Package dimension: 70cmX28cmX51cm
Size:M,L,XL. As the suit can be adjusted to the wearer with the height of 165cm-190cm by Velcro and buckle,the main different of the sizes is the length of elbow and Arm protector, knee and shin protector. For Size M, the elbow and arm protector is 38cm long and the knee and shine protecot is 60cm, Size L is 41cm and 63 cm and Size XL is 44cm and 66cm.
Color:Black,Navy blue, green,desert Camo

Features

a. Protect area (cm2)
Number Protect part Protect area (cm2)
Size: XL Size: L Size: M
1. Chest, Abdomen and Groin 2,800 2,800 2,800
2. back 1,700 1,700 1,700
3. Arms 2,240 2,120 2,000
4. Legs 4,350 4,220 4,100
b. Flexibility:
CSS- CSS 001-2007 anti-riot Suit can provide flexible body actions with easy wearing and removal. The wearer can still act very well with the suit wearing on.
c. Temperature testing
Performance would not be effected in circumstances of under-20ºC–+55ºC+/-2ºC relative humidity below 95% for four hours.
d. Resistance capability:
Body: >3000N/5cm.
Buckle: >200N
Joints: >300N
e. Anti-stab testing
It can not be pierced when using a dagger to stab any point of the chest, back and groin parts of the anti-riot suit under 2000N of static pressure for 1 minute(??20J).
f. Anti-wallop in the key parts:
The anti-riot suit can not be damaged with any flaw when using a steel ball of 5.8kg to impulse the chest and arms parts continuously from 220cm height(??120J).
g. Burning-resistance:
The anti-riot suit can not burn when using Bunsen Burner to light the chest of the suit for 1 minute. Blaze will automatically go out within 5 minutes.

Exterior & Interior construction:

a. External construction
CSS- CSS 001-2007 anti riot suit is composed of 10 pieces of parts of special material in high intensity.The armor in chest, thighs, shoulder and elbows are made of PC industrial plastics. And the other parts are of special material in high intensity. Outside fabric is nylon woven fabric in black. The suit can be adjusted to suit to the wearer in different height by Velcro, buckle, etc.

b. Internal construction:
From outside to inside it appears armor layer, anti-stab layer, buffer protective layer and liner layer.The buffering layer for the front chest and back parts are made of multi layers of aramid fibre.There are also special material with the function of anti-stab for the position of heart, liver, spleen, lung, kidney and generative organ.
CATEGORY: ENFORCEMENT GEAR – Shield
DESCRIPTION:

Model: FBD-1

Material: PolyCarbonate

Size: 980*530*3.5/MM

Weight: About 2.60kgs/set

Color: Clear

CATEGORY: ENFORCEMENT GEAR – Shield
DESCRIPTION:

Model: FBD-2

Material: PolyCarbonate

Size: 1000*550*3.0/MM

Weight: About 3.20kgs/set

Color: Clear

CATEGORY: ENFORCEMENT GEAR – Shield
DESCRIPTION:
FBD-8 PC ANTI-RIOT SHIELD
• Light weight and in sizes to protect torso or full head to knee
• Padded armrest
• Transparent
• PolyCarbonate (Lexan® or Teijin® )
Model: FBD-8
Material: PolyCarbonate
Size: 1000*600*4.0/MM
Weight: About 2.90kgs/set
Color: Clear

CATEGORY: ENFORCEMENT GEAR – Shield
DESCRIPTION:

Model: FBD-3

Material: PolyCarbonate

Size: 980*530*3.5/MM

Weight: About 2.60kgs/set

Color: Clear

CATEGORY: ENFORCEMENT GEAR – Shield
DESCRIPTION:
• Light weight and in sizes to protect torso or from head to knee
• Padded armrest
• Transparent
• PolyCarbonate (Lexan® or Teijin® )
Model: FBD-4
Material:PolyCarbonate
Size: 900*610*3.0/MM
Weight: About 2.50kgs/set
Color: Clear

CATEGORY: ENFORCEMENT GEAR – Shield
DESCRIPTION:
FBD-5 Riot Shield (36″ x 20″)

Protect your vital areas with this strong, durable Lexan plastic Riot Shield.

Lexan plastic construction
Lightweight and easy to use
Dielectric handle to prevent electric shock
Two-piece breakaway strap
36″H x 20″W x 1/8″D
Weighs 5-1/2 lbs.

CATEGORY: ENFORCEMENT GEAR – Shield
DESCRIPTION:
Comfortable armrest with buffer zone, white PC surrounding rim, with baton holder, transparent

Dimensions:

1000??550??3mm (other sizes/thicknesses on request)

Weight:

approx. 3.3kg

CATEGORY: ENFORCEMENT GEAR – Shield
DESCRIPTION:
Transparent.

Two or more FBD-7 shields can joint together to provide large protection area.

CATEGORY: ENFORCEMENT GEAR – Shield
DESCRIPTION:
Round, transparent

CATEGORY: ENFORCEMENT GEAR – Shield
DESCRIPTION:
Round, transparent

CATEGORY: ENFORCEMENT GEAR – Anti Riot Helmet
DESCRIPTION:
FB2000 ANTI-RIOT HELMET
Model: FB2000
Material: ABS
Specification: 270x207x215mm
Color: White; Dark Navy
Package: 71.1×56.8x49cm/8pcs per carton
G.W.: about 15kg

| | | | |
| --- | --- | --- | --- |
| NAME: | Helmet | TYPE: | CSS2000-M |

CATEGORY: ENFORCEMENT GEAR – Anti Riot Helmet
DESCRIPTION:
FB2000-M ANTI-RIOT HELMET
Model: FB2000M
Material: ABS
Specification: 270x207x215mm
Package: 71.1×56.8x49cm/8pcs per carton
G.W.: about 15kg
Color: Olive green

CATEGORY: ENFORCEMENT GEAR – Anti Riot Helmet

CATEGORY: ENFORCEMENT GEAR – Anti Riot Helmet
DESCRIPTION:
Material: GFRP
Specification: 291x252x259mm
Color: White

CATEGORY: ENFORCEMENT GEAR – Anti Riot Helmet
DESCRIPTION:
Model: FBH-2
Shell Material: GFRP
Face Shield: Shatter-proof polycarbonate
Specification: 279x249x259mm
Color: Dark Navy
Inner liner: Foam cushion
Size: S 540-560mm
M 560-580mm
L 580-600mm
Net weight: about 1.67kg/pc
Package: 680x580x600mm/8pcs/19kg

CATEGORY: ENFORCEMENT GEAR – Anti Riot Helmet
DESCRIPTION:
Material: GFRP
Specification: 291x247x158mm
Color: White

CATEGORY: ENFORCEMENT GEAR – Anti Riot Helmet
DESCRIPTION:
Material: GFRP
Specification: 287x250x177mm
Color: White

Model:CSS-HC-1
Double lock system;
Nickel-plated steel;
Minimum Diameter measures ø5.0cm;
About:300g/set.
Leading time: 30days
Package:36x26x19cm/50pcs per carton
G. W.: 17kg

| | | | |
| --- | --- | --- | --- |
| NAME: | Handcuffs | TYPE: | CSS-HC-2 |

CATEGORY: ENFORCEMENT GEAR – Handcuff
DESCRIPTION:
Double lock system;
Nickel-plated steel;
Two keys;
Minimum Diameter measures ø5.0cm;
About 310g/set;

| | | | |
| --- | --- | --- | --- |
| NAME: | Handcuffs | TYPE: | CSS-HC-3 |

CATEGORY: ENFORCEMENT GEAR – Handcuff
DESCRIPTION:
Material: Carbon steel
Weight: 80g
Length: 7.0cm

| | | | |
| --- | --- | --- | --- |
| NAME: | Handcuffs | TYPE: | CSS-HC-4 |

CATEGORY: ENFORCEMENT GEAR – Handcuff
DESCRIPTION:
Material: Carbon steel
Weight: 580g
Length: 36.0cm
Min Diameter: 7.8cm
Max Diameter: 10.3cm
Teeth: 25

| | | | |
| --- | --- | --- | --- |
| NAME: | Handcuffs | TYPE: | CSS-HC-P |

CATEGORY: ENFORCEMENT GEAR – Handcuff
DESCRIPTION:
Plastic handcuff

Length??50.5cm
Width??1.1cm
Thickness??3mm
Tensile strength??120kg
Package??55x50x50cm /2500pcs per carton
G.W.??37kg

| | | | |
| --- | --- | --- | --- |
| NAME: | Handcuffs | TYPE: | CSS-HC-S |

CATEGORY: ENFORCEMENT GEAR – Handcuff
DESCRIPTION:
Soft Handcuff
Soft handcuff, also called instant handcuff, is composed of a high intensity fiber woven stripe and a high intensity clip. It can fasten round a person's wrists just by pulling the stripe. Tested by China Public Security Ministry, the product is qualified for related standard.
The soft handcuff has some advantages as follow:
1.High intensity: The breaking strength is over 600kg. This means that a person cannot escape in that it is beyond human power to break the stripe .
2.Lightweight: 10g/pair, only 1/45 that of metal handcuffs.
3.Small volume: Three to four pairs can be put in one small pocket.
4.Low price: low price compare with metal handcuff.
5.Soft materials, easy for hiding.
6.Convenient to use.

CATEGORY: ENFORCEMENT GEAR – Baton
DESCRIPTION:
Tonfa
Made of ABS plastic.
Trumbull Stop on the end of the side handle provides sure grip, even for the beginners. Eliminating re-gripping when spinning the baton.
These batons won??t warp or dent.
Black; Measures 600??32mm; Weighs 610g.

CATEGORY: ENFORCEMENT GEAR – Baton
DESCRIPTION:
Rubber baton with wrist-strap
Length: 65cm (45cm, or user defined)
N.G.: about 0.53kg/pc
Dia.: 2.70cm
Package: 67X17X17cm3/25pcs per carton
Gross weight: 11.25kgs per carton

CATEGORY: ENFORCEMENT GEAR – Baton
DESCRIPTION:
Three-stage Expandable Stick-baton

Baton has a nickel-plated or black steel shaft and a black handle;
Anlong® baton with a snap of the wrist;
Retract it for easy on-belt carrying;
Produce a firm durable gripping surface to assure non-slip handling.
Length: About 50cm
Color: Black

CATEGORY: ENFORCEMENT GEAR – Baton
DESCRIPTION:
Material: Rubber

Specification: 357x22mm

CATEGORY: ENFORCEMENT GEAR – Baton
DESCRIPTION:
Rubber baton RB-2 (61cm)
Length: 61cm
N.G.: 0.9kg/pc
Dia.: 30mm
Package: 63.5×20.5×14.5/20pcs per carton
Gross weight: 21kgs per carton
Cartons: 1400cartonsRubber baton RB-2 (70cm)
Length: 70cm
N.G.: 1.1kg/pc
Dia.: 30mm
Package: 73.5×20.5×14.5/20pcs per carton
Gross weight: 22.5kgs/carton
Cartons: 1400cartons

| | | | |
| --- | --- | --- | --- |
| NAME: | Rubber Baton | TYPE: | RB-4 |

CATEGORY: ENFORCEMENT GEAR – Baton
DESCRIPTION:

Rubber baton

Model:RB-4

Specification:

Glass-fiber reinforced polyester inserts with PU coating.

High continuous behaviour in bending,chemical resistance,leather strap

Dimensions:880X25mm Hand guard:12mm

weight:670kg

CATEGORY: ENFORCEMENT GEAR – Baton

CATEGORY: ENFORCEMENT GEAR – Baton
DESCRIPTION:
Length:

65cm(extended)

21cm(retracted)

CATEGORY: ENFORCEMENT GEAR – Baton
DESCRIPTION:
Three-stage Expandable Stick-baton

Baton has a nickel-plated or black steel shaft and a black handle;
Anlong® baton with a snap of the wrist;
Retract it for easy on-belt carrying;
Produce a firm durable gripping surface to assure non-slip handling.
Model:TB-4
Length: About 51cm

CATEGORY: ENFORCEMENT GEAR – Baton

| | | | |
| --- | --- | --- | --- |
| NAME: | Electric Baton | TYPE: | EB-I |

CATEGORY: ENFORCEMENT GEAR – Electric Baton
DESCRIPTION:
EB-I Stun Baton
Function: Shocking, lighting, shock and break resistant.
Battery: NiH(1000mAh).
Rechargeable Times: ??800
Continuous Discharge: 1.5 hour
Color: Black
Length: 50.5mm
Diameter:¦?41mm
Working Voltage: DC7.2V
Current: ??2A (shocking)
??0.7A (lighting)
Output Pulse Voltage: ??150kv
Output energy: ??1J/s
Adapter: 220v/ 50hz
Weight of baton: about 700g/pc
Weight of adapter: 66g
Package: 12pcs/carton; (690 X360X 320mm)
Gross weight: 12kg/carton
Net weight:10.50kg/carton

| | | | |
| --- | --- | --- | --- |
| NAME: | Electric Baton | TYPE: | EB-II |

CATEGORY: ENFORCEMENT GEAR – Electric Baton
DESCRIPTION:
Stun Baton EB-II

Key Technical Data:
Function: Shocking, lighting, alarming
Shocking Voltage: 500KV
Alarming Level: 100db??15%
Battery: Rechargeable, NiCd
Rechargeable Times: ??800
Continuous Discharge: 1.5 hour
Color: Black
Length: 450mm
Diameter: ¦?61mm
Working Voltage: DC7.2V
Current: ??2A (shocking)
??0.7A (lighting)
Output Pulse Voltage: ??80kv
Adapter: 220v/ 50hz
Weight of baton: about 800g/pc

| | | | |
| --- | --- | --- | --- |
| NAME: | Net Launcher | TYPE: | NG-II |

CATEGORY: ENFORCEMENT GEAR – Net Launcher
DESCRIPTION:

Net Launcher

The net launcher is a less lethal system that gives law enforcement officials an alternative method to catch, subdue and arrest criminals.
Features:
Capture without pain compliance
Restrict movement
Minimize injury and collateral damage
Work in all types of weather
Low cost
Neutralize threatening animals

The net launcher is intented for use by Law Enforcement, Corrections, and Aninal Control Officers Only.
Style: NG-II

Specification:
Launcher
Handheld launcher single-use, one-shot launcher
Color: black
Weight: 1.6kg
Dimension: 390*143*73mm

Net Construction
Material: High intensity nylon net with rubber projectiles.
Area: 3.23mX3.23meter
Total: 4 sets.

Range: 7~14 meters effective range
2 ~ 5 meters blunt impact
Velocity: 50m/s.
Ammunition: 4 pcs.
Temperature: -30??~50??.
Accessory: Manufacture manual, shoulder strap and one barrel case.
Package: Packed in toolbox (43.5x32x12cm).

| | | | |
| --- | --- | --- | --- |
| NAME: | Search Light | TYPE: | SL01 |

CATEGORY: ENFORCEMENT GEAR – Search Light
DESCRIPTION:
Model: SL01
Housing color: Black & white weaved
Battery capacity: 6V 6.8AH
Power: 40W
Brightness: 1W-40W
Switch shift: Dim??Medium??Bright??Flash
Max range: 1200M
Performance: Waterproof, shock resistant
Charging: Digital seat charger(220V/110V/120V)

| | | | |
| --- | --- | --- | --- |
| NAME: | Search Light | TYPE: | SL02 |

CATEGORY: ENFORCEMENT GEAR – Search Light
DESCRIPTION:
Searchlight
Model: SL02
Performance: digital control, dimmer switch, indoor charger and car charger
Battery: 6V5.5AH (21 copper pieces)
Continuous illumination hours: 1h-3.5h (60W-80W halogen bulb)
Charging time: 8 hours
Size: 15.5??24??13cm/pc
48.5??28??49cm/12 pcs
Weight: 1.75 kg/pc
22 kg/12pcs

| | | | |
| --- | --- | --- | --- |
| NAME: | Search Light | TYPE: | SPL1 |

CATEGORY: ENFORCEMENT GEAR – Search Light
DESCRIPTION:
Spotlight I &Spotlight II
1.5 Million CP.
90 minute continuous burn time.
Rechargeable cordless spot.
Portable cordless operation.

| | | | |
| --- | --- | --- | --- |
| NAME: | Search Light | TYPE: | SPL2 |

CATEGORY: ENFORCEMENT GEAR – Search Light
DESCRIPTION:
Spotlight I &Spotlight II
1.5 Million CP.
90 minute continuous burn time.
Rechargeable cordless spot.
Portable cordless operation.

CATEGORY: ENFORCEMENT GEAR – Gas Mask
DESCRIPTION:

1. APPL1CATION AND FEATURE

The GM-I mask is a novel design gas mask, the canister of the face piece. When the ambient air is contaminated with chemical biological and radiation agents, the mask can provide effective protection to the wearer??s respiratory organs, eyes and facial skin. The mask is designed for use by military, police and civil defense and can also be used in industry, agriculture, storehouse, scientific research etc.

The mask is equipped with a drinking system. If necessary the face piece may be connected to a canteen by means of accessories to enable the wearer to intake water or fluids in contaminated areas. The flexibility of the face piece is suitable. The elastic straps have elasticity and can be adjusted at random to ensure a comfortable, leak-free fit. Large triangular lenses are manufactured from optical plastic and surface treated specially. The lenses provide a wide visual field and excellent optical properties and have good abrasion and shook resistance.

The canister is filled with impregnated carbon of good quality and high efficiency filter paper and high efficiency filter paper and can filter out toxic gases and particulate aerosol from the influent air except carbon monoxide. The canister has a low resistance, lightweight and long life.

2. Gas life:

Cyanogen chloride: not less than 50 minutes at 30 L/min.

(1) 5mg/L, 80-80% RH conditions.

Hydrocyanic acid: not less than 50 minutes at 30L/min, 3mg/L conditions.

(2) Ool mist penetration coefficient: not more then 0.005% at 30L/min

(3) Inhalation resistance: not more than 186 pa at 30L/min.

(4) Exhalation resistance: not more then 100 pa at 30L/min.

(5) Visual field: total not less than 75%, binocular visual field not less than 30%.

(6) Weight: Complete set of mask app. 700 grams.

(7) Storage life: more then 8 years.

3. USE AND MAINTENANCE

(1) The GM-I mask is divided into three sizes (small, medium and large on the left lower part of the face blank with a number: 1(small), 2(medium) or 3(large).The user chooses a suitable mask according to the user??s head shape. If the user??s eyes after the mask has been worn are at the level of about10 mm above the horizontal center line lf lenses, it is shown that the selected size of the mask is suitable. If the eyes are above the value of 10mm, the mask is too small . If the eyes are below the value, the mask is too large.

(2) Use of drinking device. A special canteen cap should be screwed previously to the canteen. When the wearer needs to drink water, unscrew the protective covers from the canteen cap and the water inlet valve, screw the ends of the connecting tube to the canteen cap and the water inlet valve, actuate the water inlet valve by hand to keep a suction tube in the mouth.

(3) The complete mask, particularly the lenses and the expiratory valve, should be kept clean. If necessary the lenses and the expiratory valve may be washed with clear water.

(4) The canister can diversities adsorption capacity for toxic gases after it has absorbed the moisture. The closure cap and the plug should usually be attached to the canister to pr-event the ingress of moisture.

(5) The gas masks should be stored in a cool dry place. If the masks are not in use for a longer time, a support should be placed in each face blank to prevent the deformation. The face piece must not contact organic solvent.

CATEGORY: ENFORCEMENT GEAR – Gas Mask
DESCRIPTION:
I. Application and feature The CS-II gas mask is a protect equipment, with filtered respiration and one eye window for person. The mask can provide effective protection

to the wearer's face, eyes and respiratory tract. Prevent the harm of toxic, biological and radiation dust. It is designed for using in Industry, agriculture, medicine and scientific research and can also be used in military, police and civil defense etc. The face visor treated specially, to wear comfortable and leak-free fit, can satisfy more than 95% adult. The five string can be adjusted at random, have elasticity and suitable.The lens of the curve window can cut off water. Moreover, of course the wearer has a good sight.

Large eyes window lens are manufactured from polycarbonate. It provides a wide visual field and excellent optical properties and has good abrasion and shock resistance.The megaphone is installed inside, which can make the sound clearly passes through. According to object of protection, different kinds of canisters can be selected. GM-II gas mask is produced according to GB2890-95 GAS MASK USING TECHNICAL CONDITION.

II. Specifications

2.1 Gas life: Depending on the selected canister.

2.2 Exhalation resistance: not more that 98pa (at 30l/min)2.3 Visual field: Total visual field: not less than 75%.Binocular visual field: not less than 60%.

Below visual field: not less than 40 degrees.2.4 Oil mist penetration coefficient: not more than 0.005%.2.5 Leak coefficient: not more than 0.005%.2.6 Storage life: the mask canister in providing conditions, storage life is 5years.

| | | | |
| --- | --- | --- | --- |
| NAME: | Roadblock | TYPE: | CS-RB10 |

CATEGORY: ENFORCEMENT GEAR – Roadblock
DESCRIPTION:

Model: AL-RB10

Material: Special Aluminium alloy and Plastic
Length: 10.0m
Weight: About 16.30kgs
Package size: 1200x600x510mm

| | | | |
| --- | --- | --- | --- |
| NAME: | Correctional/Tactical Helmet | TYPE: | CH2007A |

CATEGORY: ENFORCEMENT GEAR – anti riot helmet
DESCRIPTION:

Correctional/Tactical Helmet

Offers state-of-the-art head protection and features a steel guard grid for added protection to your face.

Meets or exceeds NIJ 0104.02 (riot), 0105.01 (crash), and D.O.T. FMVSS-218 (impact and retention only) requirements
Lightweight shell is constructed of layers of fiberglass reinforced with Kevlar®
Exclusive Combi-fit® pad suspension system attaches to the liner with Velcro&174; for easy removal
A liquid guard-shield cover
Accepts most current gas masks
Provides full coverage including critical skull base area and upper cervical vertebrae
Designed flare shell accommodates use of shoulder weapon while wearing helmet
Quick-release buckles

Sizing Information:

L/XL (7 3/8 – 7 3/4″)

| | | | |
| --- | --- | --- | --- |
| NAME: | Correctional/Tactical Helmet | TYPE: | CH2007B |

CATEGORY: ENFORCEMENT GEAR – anti riot helmet
DESCRIPTION:

Correctional/Tactical Helmet
without Steel Guard Grid

Correctional/Tactical Helmet without Steel Guard Grid offers state-of-the-art head protection.

Lightweight shell is constructed of layers of fiberglass reinforced with Kevlar®
Exclusive Combi-fit® pad suspension system attaches to the liner with Velcro®
Easy removal
A liquid guard shield cover keeps intrusive liquids off your face
Accepts most current gas masks
Provides full coverage including critical skull base area and upper cervical vertebrae
Designed flare shell accommodates use of shoulder weapon while wearing helmet
Quick-release buckle on chin strap
Meets or exceeds NIJ 0104.02 (riot), 0105.01 (crash), and D.O.T. FMVSS-218 (impact and retention only) requirements

Sizing information:

L/X-L (7 3/8 – 7 3/4″)

CATEGORY: ENFORCEMENT GEAR – Baton

CATEGORY: ENFORCEMENT GEAR – Baton
DESCRIPTION:
It is always ready when you are by utilizing a revolutionary cam and ball bearing action. Its exclusive patented built-in safety features make it easy to access, open, control and hold on to. Once opened, it stays locked open until you're ready to collapse it by pushing a single button, one time. Compact and comfortable to wear.It is designed to be carried with you at all times.

CATEGORY: ENFORCEMENT GEAR – Baton

CATEGORY: ENFORCEMENT GEAR – Baton
DESCRIPTION:

The expandable batons feature a 1″ (2.54 cm) polycarbonate shaft housed in an anodized aluminum with your choice knurled or foam grip.

Positive Lock Batons are lightweight, all aluminum expandable batons. They use a push button mechanism that keeps them from collapsing until you need them to. This also eliminates the awkward closing procedure associated with most Friction Lock Batons. These batons can be used with virtually all standard baton techniques and tactics or training programs.

| | | | |
| --- | --- | --- | --- |
| NAME: | Gas Mask | TYPE: | CS-III |

CATEGORY: ENFORCEMENT GEAR – Gas Mask
DESCRIPTION:

CS-III GAS MASK

1 APPL1CATION AND FEATURE

The GM-III mask is a novel de-sign gas mask,the canister of the facepiece.when the ambientair is contaminated with chemi-cal biological and radiationagents,the mask can provid eeffective protection to the we-arer??s respiratory organs,eyesand facial skin. The mask is designed for use by military,police and civil defense and can also be used in industy,agriculture,storehouse,scien-tific research etc.

The mask is equipped with adrinking system.If necessary the facepiece may be connected to a canteen bymeans of acces-sories to enable the wearer to intake water or fluids in cont-aminated areas. The flexibility of the facepiece is suitable.The elastic straps have elasti-city and can be adjusted at ra-ndom to ensyre a comfortable,leak-free fit. Large triangularlenses are manufactured fromoptical plastic and surfacetreated specially. The lensesprovide a wide visual field andexcellent optical propertiesand have good abrasion and sho-ok resistance.

The canister is filled with impregnated carbon of good qua-lity and high efficiency filterpaper and high efficiency filterpaper and can filter out toxicgases and particulate aerosolfrom the influent air exceptcarbon monoxide. The canisterhas a low resistance,lightweight and long life.

CATEGORY: ENFORCEMENT GEAR – Gas Mask

CATEGORY: ENFORCEMENT GEAR – Gas Mask
DESCRIPTION:

CS-V GAS MASK

1 APPLICATION AND FEATURE

The GM-V GAS MASK is an ind-ividual protective equipent,which consists of a head harne-ss type facepiece, a corrugated hose and a canister. The GM-V GAS MASK can provide effective pro- atory organs, eyes and facialskin. The facepiece can be fit-ted with different canisters according to the protection requirements. A small canistercan directly be connected to the facepiece of this mask is ve-ry wide. The GM-V GAS MASK can be used by military, police, civil defense, emergency,and fire personnel or in industry,agri-culture,scientific resesrchetc.

The GM-V GAS MASK has large tri-angular eyepieces,which provi-de a wide visual field. The lenses are manufactured from optical plastic and surface treated specially to have high strength and abrasion resistan-ce. A new-type air guide is pr-ovded inside the facepiece to separate inconing and outgoing airflows and so avoids the len-ses misting over.

2 SPECIFICATIONS

when the facepiece of the GM-V GAS MASK is fitted with a GM-V canister,specifications are as follows:

(1).Gas life

Cyanogen chloride: not less than 50 minutes at 30 L/min,1.5mg/L,80-80% RH conditions.

Hydrocyanic acid: not less than 50 minutes at 30 L/min, 3mg/L conditions.

(2).Oil mist penetration coef-ficient: not more than 0.005% at 30L/min.

(3).Inhalation resisance: not more then 186 Pa at 30 L/min.

(4).Exhalation resistance: not more then 100 Pa at 30L/min

(5).Visual field: total not less than 75%,binocular visualfueld not less than 30%

(6)Storage life: 8 years

| | | | |
| --- | --- | --- | --- |
| NAME: | FB2005 Anti Riot Helmet | TYPE: | CSS2005 |

CATEGORY: ENFORCEMENT GEAR – Anti Riot Helmet

| | | | |
| --- | --- | --- | --- |
| NAME: | Anti Riot Helmet | TYPE: | CSS2003 |

CATEGORY: ENFORCEMENT GEAR – Anti Riot Helmet
DESCRIPTION:

Model: FB20003

Material: ABS

Color: White

| | | | |
| --- | --- | --- | --- |
| NAME: | FBH-5 Anti Riot Helmet | TYPE: | CSSH-5 |

CATEGORY: ENFORCEMENT GEAR – Anti Riot Helmet
DESCRIPTION:

Model: FBH-5

Material: PC/ABS

Exterior package: 81.5x38x81.5cm/9pcs/ctn

Inner package: 36.8×26.8x27cm

G.W.: 20.90kg/ctn

N.W. 15.50kg/ctn

Color: White; Dark Navy; Mute Black; Yellow; Olive Green etc.

| | | | |
| --- | --- | --- | --- |
| NAME: | Anti Riot Helmet | TYPE: | CSS2004A |

CATEGORY: ENFORCEMENT GEAR – Anti Riot Helmet
DESCRIPTION:

Model: FB20004A

Material: PC/ABS

Exterior package: 81.5x38x81.5 cm/9pcs/ctn

G.W.: 20.90kg/ctn

N.W.: 15.50kg/ctn

Color: White; Dark Navy; Mute Black; Yellow; Olive Green etc.

| | | | |
| --- | --- | --- | --- |
| NAME: | Anti Riot Helmet | TYPE: | CSS2000B |

CATEGORY: ENFORCEMENT GEAR – Anti Riot Helmet
DESCRIPTION:

Model: FB2000B

Material: PC/ABS

Visor thickness:2mm

Net weight of helemt:1.45kg

Package: 370x275x270mm Gross weight:1.80kg

Exterior size of carton: 75×55.5x29cm/4pcs/ctn

G.W.: 8.50kg/ctn

N.W.: 7.20kg/ctn

Color: White; Dark Navy; Mute Black; Yellow; Olive Green etc.

| | | | |
| --- | --- | --- | --- |
| NAME: | Handcuffs | TYPE: | CSS-HC-5 |

CATEGORY: ENFORCEMENT GEAR – Handcuff
DESCRIPTION:

DESCRIPTION:

Model:HC-5
Double lock system;
Nickel-plated steel;
Two keys;
Minimum Diameter measures ø5.5cm;
About 350g/pair Key:10kg

| | | | |
| --- | --- | --- | --- |
| NAME: | Handcuffs | TYPE: | CSS-HC-6 |

CATEGORY: ENFORCEMENT GEAR – Handcuff
DESCRIPTION:

DESCRIPTION:

Model:HC-6
Double lock system;
Nickel-plated steel;
Two keys;
Minimum Diameter measures ø5.5cm;
About 340g/pair key:10g

| | | | |
| --- | --- | --- | --- |
| NAME: | Anti Riot Helmet | TYPE: | CSS2000C |

CATEGORY: ENFORCEMENT GEAR – Anti Riot Helmet
DESCRIPTION:

DESCRIPTION:

Material: PC/ABS

Visor thickness:4.5mm

Net weight of helmet:1.60kg

Inner package: 370x275x270mm Gross weight:1.95kg

Exterior package: 75×55.5x29cm/4pcs/ctn

G.W.: 9.00kg/ctn

N.W.: 7.80kg/ctn

Color: White; Dark Navy; Mute Black; Yellow; Olive Green etc.

| | | | |
| --- | --- | --- | --- |
| NAME: | Correctional/Tactical Helmet | TYPE: | CH2007C |

CATEGORY: ENFORCEMENT GEAR – Anti Riot Helmet
DESCRIPTION:

Pro Police Riot Helmet

Affordable protection with all the features you need in a riot helmet.

Meets or exceeds NIJ 0104.02 specifications for riot conditions and 0105.01 for crash conditions
Meets or exceeds DOT FMVSS-218 specs for impact retention
Made of Tenntex Thermo Composite material
Liner of energy absorbing 3/4″ thick polystyrene
Visor with adjustable thumb knobs
Flip-up, polycarbonate, gasket-sealed face shield has clear optical grade finish
3/4″ chin strap with quick release buckle and soft rubber chin cup
Cervical neck protector
Scratch-resistant flat black finish

Sizing Information

S/M (6 3/4 – 7), L/XL (7 1/2 – 7 7/8), Jumbo (8 – 8 1/8)

| | | | |
| --- | --- | --- | --- |
| NAME: | Plastic Handcuff | TYPE: | CSS-HC-PDC |

CATEGORY: ENFORCEMENT GEAR – Handcuff
DESCRIPTION:

Double Cuff

Using standard cuffing techniques, disposable double cuffs will do the job of two single-strap disposables.

1/2″ wide
350 lbs of tensile strength
Will not cut into prisoner's wrists
Can be written on to record the date, time of arrest or other pertinent information

| | | | |
| --- | --- | --- | --- |
| NAME: | Non-lethal Weapon | TYPE: | CS-TA01 |

CATEGORY: ENFORCEMENT GEAR – Non-lethal Weapon
DESCRIPTION:
Specifications:

Power: 4.8V, rechargeable

Output Voltage: 80KV

Weight: 0.19kg

Effective range: within 5 meters

Shock lasting period: 30s

Needle length: 9mm