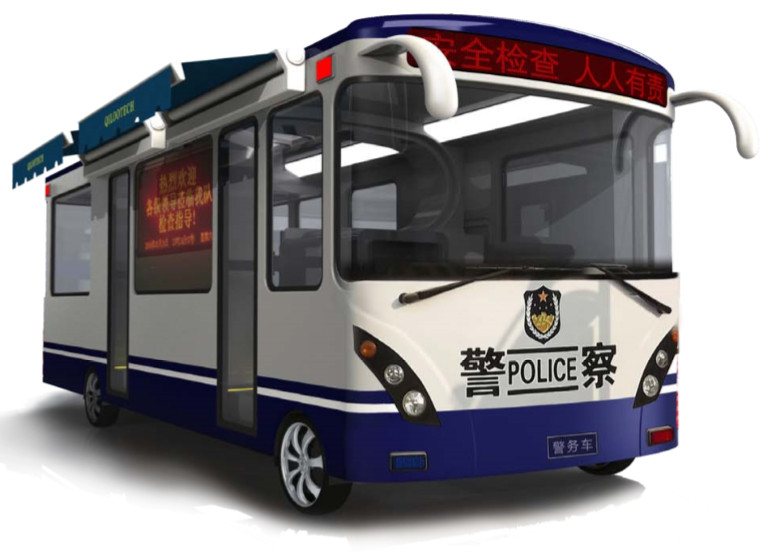 Sharpshooter Series 5010-VE is a multi-purpose Mobile Checkpoint Screening Vehicle which provides up to 100% weapons, explosives and contraband (liquids) detection both on people and hand luggage. In the wake of new security threats to the country screening of all relevant persons and their luggage in realtime is a necessity of the present time.
The Sharpshooter 5010-VE can perform fast and efficient screening at many different public places such as public events, mosques, churches, hotels, small airports, public governmental venues etc. Our MOBILE CHECKPOINT SCREENING VAN offers unmatched flexibility and is very cost effective as compared against similar solutions.
Sharpshooter 5010-VE Mobile Screening Vehicle Salient Features
Specially designed for mobile security screening.
Free from installation debugging, ready for work immediately after vehicle is parked.
Easy entrance design, very convenient for people to get on/off.
The vehicle combines Personnel Screening, Luggage Scanning, Liquid Detection etc. (Optional: Face Recognition, ID Identification and other security equipment.)
Electric vehicle adopted as platform, driving range 100km, upgradable according to client's need.
Electricity, gasoline and CNG are available for choice as fuel power.
Cyclic inspection, fast screening/scanning, clear imaging, real-time record, high efficiency.
Wide detection range, easy to operate, safe and reliable.
Comfortable interior environment, equipped with rest facilities, office cabinet, water dispenser, air conditioner.
Equipped with independent gasoline generator, suitable for places with no electricity.
Technical Specification
Power: electricity (lithium battery.)
Max speed: 35km/h.
Driving distance: 120km(backup gasoline generator available to increase driving range.)
Power source: grid/generator.
Inspection types: Body Scanning, Luggage Scanning, Liquid Detection (Optional: Explosive Detection, Radioactive Material Detection and etc.)
Throughput: max 1000 pph.
Standard height of body screening: 2.1m.
Effective height of body screening: 1.85m.
Dose per inspection for personnel: 0.05~0.2µSv, superior to 4µSv of industry standard, 0.25µSv of American standard.
Luggage scanning: tunnel Size 650x500mm, auto alarm against metal
Radiation protection: leakage dose rate outside the radiation protection boundary <0.69µSv/h, superior to industry standard of 2.5µSv/h.
Liquid detection: Three-in-One liquid security detection with automatic isolation.
Display: Dell 17″ + Dell 24″
Additional radiation shield: lead glass
UPS: Online