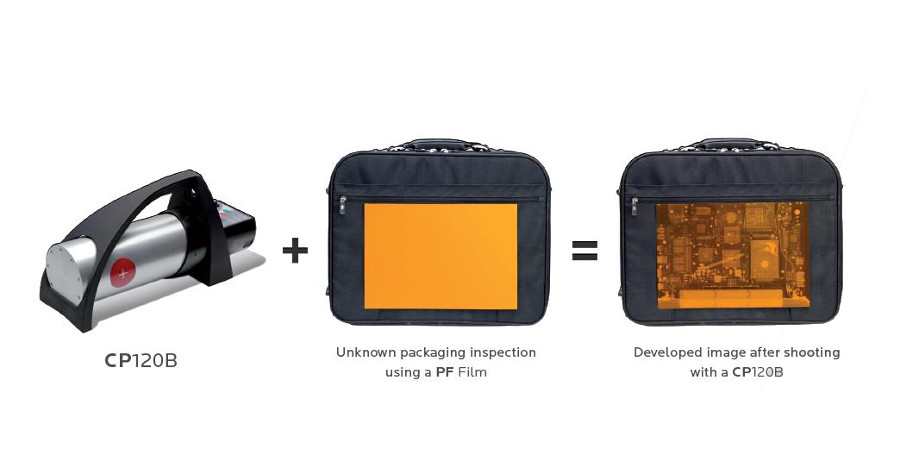 When the risk is too large, when the suspicious item cannot be removed, when even the thinnest panel is still too thick, when the perfect solution would be the fast speed provided by a digital panel combined to the thinness of a film… ICM has got the solution: The "no-thickness" panel, the "no-process" film, named The PF film, the Process Free Films !
PF Films
This film is the first one available on the market needing no development, no dark room and even no cassette. Just place it, X-Ray it for a while and interpret it.
Maximum user-friendliness
Needing no cassette, no development and even no dark room…
The ease of use has come to a maximum with these incredible films as they can be stored in real world environment and don't care for light before, during and even after use.
No development
With these incredible films, no development is required. Just place the film against the suspicious item, X-Ray it and observe the image appearing in real time.
Here opposite, you will see an X-Ray image of a bag containing a laptop using the extraordinary PF films.
The resolution of about 10µm offers a precision allowing no guess identification.
No thickness
When there is no possibility to place the detector behind the suspicious object, ICM still has a solution. Having a thickness of 0.2mm, these "no-thickness" films will always allow you to get an image without moving or even touching the threat in every situation!
These films are the best partner of either the FlatScan or the X-Spector for 100% secure identification.
Product Brochure: X-Ray Process Free Films