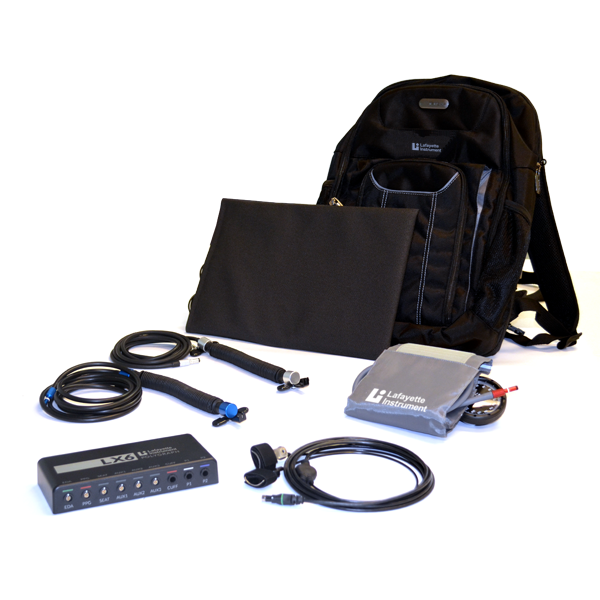 Lafayette Instrument Company is the world's leading manufacturer of Polygraph instrumentation and equipment, distributing credibility assessment solutions to private examiners, government, and military organizations around the world.

Since 1993, the Lafayette Instrument Company Computerized Polygraph System has been a mainstay in the Polygraph industry. The Lafayette LX6 is the next generation in quality and function.
CSSPakistan in proud association with Lafayette Instrument Company brings you LX6 Polygraph System
LXSoftware with PolyScore, OSS-3, and updated drug reference
Comprehensive Instruction Manual
Activity Sensor
Pneumo Chest Assembly, silver
Pneumo Chest Assembly, blue
50 Disposable and 2 Reusable Snap EDA Electrodes
Blood Pressure Cuff
Pump Bulb w/ Gauge
All necessary cabling
Choice of Targus® backpack or carrying case
Exclusive 5 Year Warranty on DAS
1 Year Warranty on Accessories
Lifetime Technical Support
10 data channels
Superior quick release Fischer® Connectors
Recessed pneumatic ports
Durable and easy to grip molded cables
Rugged molded and textured enclosure
Improved port layout and labeling
Enclosure designed for added stability
Best in industry electronics and EDA
Selectable GSR or GSC channel
PPG channel included
New and improved Blood Pressure Cuff
Compatible with LXSoftware
Compatible with future software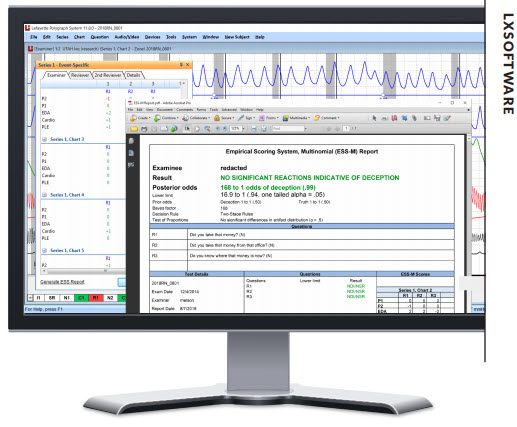 Ground-breaking ESS-M Interpreter further improves scientific accuracy of data interpretation
One of a kind Respiration Line Excursion (RLE) Tool measures ratio of relevant response divided by
comparison response in order to produce a suggested pneumo score
Visually compare pulse amplitude changes using the PLE Pulse Amplitude Tool
Simple steps to generate paperless charts and reports
Pairs with Memory Ping (details on p7) for quick, simple CIT testing and interviews
Easliy accessible EDA available in GSR or GSC using Automatic, Manual, and Detrended modes
Free downloads for the life of your polygraph system
Bundled with PolyScore, OSS-3, and updated drug reference documentation
Memory Ping allows investigators to conduct testing of suspects to determine their involvement in the
crime under investigation by detecting the presence of information in the suspect's memory.
There are uncontrollable physiological reactions in a guilty suspect when crime details are mentioned,
reactions that do not occur in those who do not know those details. Memory Ping makes it easy for you to find out who knows this information.
1. Specifications
Requires LXSoftware 11.7.1+
Size: 8.1″ x 3.22″ x 1.21″ (20.6 x 8.2 x 3 cm)
Isolation: 5000Vrms isolation on all channels
Enclosure material: ABS
Power: USB connection
Data Transfer Rate: 360 samples/second across all channels
Resolution: 32-bit analog to digital conversion
Temperature:

Operating: 32° to 125° F (0° to 52° C)
Storage: -44° to 150° F (-40° to 66° C)

Relative Humidity: 20% to 80% Non-condensating
Meets ASTM standards
Enclosure UL 94V-0 rated
CE certified/meets EMC directive
Sensor Channels
INPUT

CH #

SPECIFICATIONS

Cardio
1
0 to 140 mmHg
Pneumatic Pneumo
2
Extended pressure range
EDA
2
GSR: 4 μA constant current, range of 10 kΩ to 2.3 MΩ

GSC: range of 5 kΩ to 4.0 MΩ

Isolation: additional 2000Vrms

PPG
1
PPG finger clip: 0.47 second time constant, 940 nm
Activity Sensor
4
0 to 4 V Analog Input