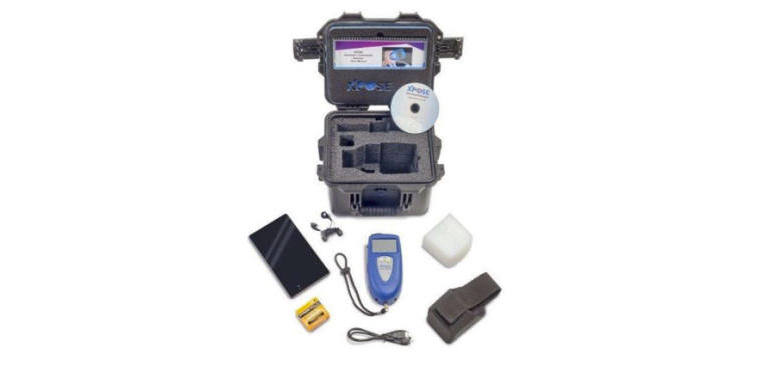 The contraband detector is a compact, lightweight, rugged, handheld density meter designed to aid law enforcement officials with the detection of hidden objects or compartments.
Frequently, contraband is covertly stored in inaccessible areas, such as car panels, tires, bulkheads, etc., where direct observation is not possible. This product gives an indication of contraband concealed in hidden locations. It works by measuring changes in density across the target area. This product incorporates a large thallium-activated cesium iodide (CsI(TI)) detector for better penetration and faster indication of "hits" triggered by an abrupt change in density.
Search Modes
This Product offers three distinct search modes to quickly locate hidden contraband. RAW mode displays the density count rate in both graphical and numeric form. BaseScan establishes a density baseline above which an alarm will sound. ZeroScan presents counts as +/- to the baseline. The operator can quickly toggle between modes with the current mode displayed in the header.
Calibration
Our Product uses a fitted calibration block that enables consistent response as the X barium source ages. When calibrated, all units will read +/- 2 percent of each other. The calibration automatically compensates for decay of the source and aging of internal components. The calibration routine runs in under 15 seconds.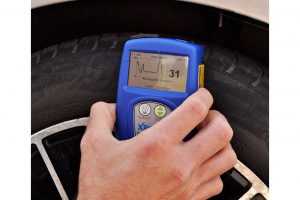 The detector has a large video-graphic back-lit display viewable in all lighting conditions, with real-time moving graph and numerical output. It can save 100 scans into memory, which are downloadable to a computer via USB with the provided Xpose Tools Software for evidence retention and remote troubleshooting. It also has built in remote display and can also serve as a radiation detector.
Resistant to IP56, NRC Exempt License, ISO9001 :2008, CE & RoHS compliant.
Supplied with the Following Standard Accessories:
Mini lead free calibration block, holster, wrist strap, USB connector, set of spare batteries, ear piece, Xpose Tools software CD, Training DVD & Manual, Weatherproof Case.
Radiation Source

Barium 133, Exempt quantity 10 micro curie standard and recommended, Xpose lifespan is approx. 20 years
Numeric and Graphical
Display
Real time Graphical Display In addition to digital numerical. Reading speed is continuous in order to feed the graph,
much faster than 0.25 sec per reading which is a minimum level for Xpose (</= to 0.25 sec)
Memory Retention
Saves 100+ scans in memory for evidence collection or training
Time & Date Stamp
Visible on the screen and saved on each recorded reading
Depth of Reading
Detects in excess of 6″ (15.2cm) thru any material and surface
Scan Speed
Xpose can scan thru 10mm steel at a rate of 7-9 inches (17- 22 cm) per second with positive identification of
contraband
Weight
1.9 lbs. (865 grams) with batteries
Dimensions
6.5″(16.5cm)L x 3.25″ (8.25cm)W x 1.75″ (4.4cm)H
Operating Temperature
Range
-22 F to 131 F (-30 C to +55 C)
Display Size
High Data Screen, 400 x 240 LCD Video Graphic Display Day/Sunlight Viewable, using Gorilla non-scratch glass. 2.5″
(6.35cm) Wide 1.5″ (3.81cm) High
Radiation Detector
Xpose has a radiation detection mode
Xpose Tools Software CD
To transfer data to PC by USB for storage, training, analysis and evidence collection also update software
Battery Life
40 Hrs. Continuous "ON" minimum, Display has "Low Battery" indication warning.
Alarm
Xpose alarm is louder for noisy environments 60 dB, 2.4 kHz, 0.5sec, audible alert.
Backlight Display
Bright display light for use at night
Low Battery Indicator
Shows when Xpose battery is close to needing replacement
Calibration Block
Mini Lead Free Calibration Block, 3.25L x 3.25″W x 2.25″ 1 lb. Calibration approx. 15 sec. much faster than 30 secs
Training DVD
Multi Language Training DVD: English, Spanish, Russian and Arabic. Other languages on request
NRC Exempt Safety
Radiation License
NRG Exempt License 10CFR 32.30.32.32
CE & RoHS Compliant
Free of harmful substances such as lead, mercury, cadmium, hexavalent chromium etc.
ISO 9001 :2008 – Certified
SO Quality Certification
IP56 Certified
Certified water & dust resistant
TAA and Berry Compliant
Proudly Made in the USA