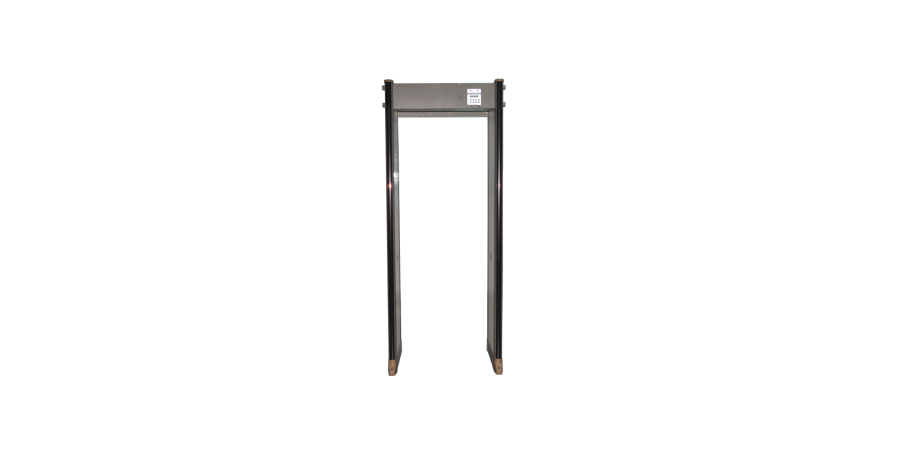 GATESCAN 150 WALK-THROUGH METAL DETECTOR

The Gatescan 150 is a general-purpose, well-priced, walk-through metal detector designed for weapons detection and access control. Target object such as guns and knives are consistently and accurately detected while personal items such as keys, coins, belt buckles and spectacles can pass through without causing an alarm.

The Gatescan 150 is a lightweight, portable and simple-to- install system that can be set up by one person in less than 15 minutes.
PASSEX 1OOM PORTABLE WALK-THROUGH METAL DETECTOR

* Weather-resistant construction * Rechargeable battery * Light weight and portable * Highly sensitive

The new Passex room Portable Walk-Through Metal Detector was introduced in November 1999 to replace the long established Passex 100 Foldable Detector. It is designed to detect dangerous weapons such as knives and pistols, even if these are concealed inside shoes.

The Passex 100M model is manufactured from weather- resistant aluminium with highly reliable, battery-operated electronic circuitry. The use of battery-powered electronics enables the detedor to be used for outdoor events and enables several hours of operation independent of mains power.
Visor Under Vehicle Surveillance System

The Visor Under Vehicle Surveillance System, (VUVSS) is a new, portable, competitively priced and state-of-the-art surveillance system which provides the operator both an effective method of searching the under-side of a road vehicle for concealed items.

Visor has various applications, including searching for concealed explosive devices, persons, firearms and drugs or other contraband. Within seconds of a vehicle passing over visor the five high definition colour cameras used within the system provide the operator with a single color image of the entire underside of the vehicle. Its easy-to-use user interface allows the operator to study the image from all angles and can be zoomed in to study areas of particular interest.

The portable Visor comes as a complete system and can be deployed in minutes from the trunk of a car. It can be permanently mounted and is powered by a 12v car battery or by mains power.
MIT HANDS-FREE METAL DETECTOR

The MIT Hand-Free Metal Detector is designed to allow the operator to search for metallic and non-metallic object simultaneously. Its silent vibrating alarm offers covert detection and is able to discriminate between large and small metal object.

The MIT Hands-Free Metal Detector comes in one universal size which fits in both the left and right hand. It is simple to use and requires no additional training.
AD18 HAND-HELD METAL DETECTOR

AD18 Hand-Held Metal Detector is claimed to be the most sensitive hand-held metal detector currently in production. As such this unit is currently being supplied under contract to the Federal Bureau of Prisons in the USA and is specified for use by many other government organizations around the world.

The AD18 has an extremal variable turbo control for programmable detection which makes it ideal for searching for very small pieces of metal. Exchangeable batteries are no longer required, due to new advanced technology which ensures that bakery consumption is to a level previously unattainable. This allows 12 months daily operation from a single replaceable battery.
GVD4 EXPLOSIVE VAPOUR DETECTOR

The GVD4 Detector is very similar to equipment originally developed for the British Army over twenty years ago to detect nitro-based explosives It ls certainly the best value explosive detour currently available and is widely used by governments worldwide who value in deterrent capabilities The GVD4 detector will not detect modern military explosives, but the equipment Is nevertheless very widely used because It lets would-be terrorists know that any building where It ls being used ls highly security conscious The Terrorists are therefore likely to choose an easier target
ZNOSE 4200 VAPOUR TRACER & ANALYSER

The Znose 4200 Vapour Tracer and analyser is the only portable, real-time ultra-fast analyser available that can detect and Identify all types of vapours and traces of organic. biological and chemical compounds accurately and extremely rapidly As such,this new equipment is being widely used for detecting exploslve devices and also narcotics.
EVD-3OOO PORTABLE EXPLOSIVES DETECTOR

The EVD-3000 is arguably the most advanced and cost-effective explosives detector available today. The system has been in use in dozens of countries worldwide for many years and is well-proven equipment. It is ready to operate in only 60 seconds and provides a response in 15. The EVD- 3000 is capable of detecting the presence of plastics and high a vapour-pressure explosives making it one of the most sensitive detectors available worldwide.
SCANNA 1OK LETTER BOMB DETECTOR

In use for well over 10 years, the highly discriminating Scanna 10K letter bomb Detector is quite simply the best letter bomb detector in the world. It has become the accepted standard equipment for worldwide governments and private organizations that could become targets of bomb attacks.

The Scanna 10K uses the most up-to-date microprocessor technology to screen objects of mail up to approximately telephone directory size. lt will detect virtually every known type of letter bomb detonating device, regardless of the type of explosive used, whether plastic or otherwise. It will also detect razor blades and mousetrap devices.
KD60 HIGH EXPLOSIVES TEST KIT

The KD60 Test Kit is in service with the UK government and is an extremely cost- effective and simple-to-use system for detecting all types of military explosives. Its negligible false alarm rate and low price enables it to be issued to security forces in far greater numbers than conventional explosive detectors which tend to be expensive and usually require the operator to have had some technical training.

Each KD60 Kit comes with an easy-to- follow set of instructional meaning that an operator with no training whatsoever can use the test kit in an operational environment immediately.
MINISCAN DESKTOP MAIL SCREENING SYSTEM

TheMiniscan is one of the smallest desktop high volume mail screening systems currently available worldwide.

The equipment utilizes the latest technology for rapid x-ray screening of mail. parcels and related incoming materials for the detection and recognition of explosive devices and dangerous contraband.

Miniscan's desktop design, simple operation and large inspection chamber enables processing of hundreds of pieces per hour. The operator is presented with a clear, real-time x-rayimage of the ontents of all inspected materials, in addition to mail and packages.

An optional CCD camera and monitor can be supplied with the equipment .
MINISCAN 2 DESKTOP MAIL SCREENING SYSTEM

The Miniscan 2 Mail Screening System has the same overall specification as the standard Miniscan but is supplied with a high definition black and white CCD camera, 6 foot cable, and a 17" monitor. This provides an enlarged image and enables clearer inspection of suspect packages.

The Miniscan 2 uses very low level x-rays and conforms to all published international safety standards.
SYSTEM 215 X-RAY SECURITY SCREENING SYSTEM

The System 215 is the world's smallest x-ray baggage screening system which is desiqned to detect organic and inorganic material such as drugs and explosives. The System 215's large tunnel opening of 46.84cm (18.44") high and 60.96cm (24") wide makes it ideal for the screening of cases and packages.

The System 215 incorporates new, state-of-the-art electronics offering outstanding reliability and maintainability, as well as superior x-ray imaging. Advanced features include high resolution monitors simplified electronics packaging and a new, durable control panel. Many features which were previously optional are now standard with the System 215.
SYSTEM 222 DESK-TOP BAGGAGE X-RAY SCREENING SYSTEM

Despite its small size, the System 222 is a complete x-ray security system equipred with state-of-the-art electronics. Its low radiation dose and high sensitivity image generating sensors guarantees film safety of up to ISO 1600.

Designed for maximum reliability and ease of maintenance, the System 222 is simple-to-use and practical where space and cost are important considerations.
KAPPA XR5 PORTABLE REAL-TIME DIGITAL X-RAY VIEWING SYSTEM

The Kappa XRS system is a highly sophisticated, yet easy-to-use portable x-ray system which pears real-time examination of suspect items.

The Kappa XR5 System comes as a complete system with x-ray camera, XR200 x-ray source. 50m cable, laptop, PCI interface, XR control software and Kappa Image Base software. A remote control facility is available as an option.

Note: This item is currently out of stock.
EXPLOSIVE ORDNANCE TRAINING DEVICES

A wide range of inert improvised Explosive Devices (IEDs) and Conventional military Mines (CMMs) for training and testing purposes are now available to authorized government organizations at very competitive prices Each IED Tralnlng Device is authentic in every detail (apart from not incorporating explosive material) to actual terrorist devices and in addition to having fully functioning electronic and/or mechanlcal components each IED provides an accurate x-Ray signature ideal for EOD and search training. Devices include Lockerbie-type radio cassette IEDS letter bombs under vehicle booby traps and briefcase IEDS. Customized devices can be made to meet clients requirements
Search and Tactical Lights

Our High Intensity Search light is the most powerful handheld search light on the market. It can illuminate an area 1.5 miles away with visible white light and 4 miles away when used with an IR filter undetectable to the human eye. IR illumination can shine through tinted glass in automobiles or buildings, light up shadowed areas, and covertly illuminate video devices.
IR Telescopic Camera Kit

The IR Telescopic Camera kit is designed for covert surveillance and a wide variety of inspections including into attics, crawl spaces, second story windows, caves, and many other areas usually difficult to access. The IR camera system uses a compact, ultra low light level B&W camera with a high intensity infrared LED to illuminate 60 to 100′ in total darkness.
Color Videoscope

CSS offers the most compact Color Videoscopes on the market. If you have to get into a confined space to do an inspection, the CSS Color Videoscopes are compact and easily transportable. They are designed to visually inspect or search inside walls, lockers, storage tanks ventilation systems, vehicles and other large video areas.
Black & White Videoscope

CSS's B&W Videoscopes are used to covertly surveil a room or visually search inside walls, lockers, storage tanks, ventilation systems, vehicles and other large video areas. The vedioscopes have a high intensity fiber optic light source that provides maximum illumination and a high resolution CCD camera to allow the operator to see farther and identify more details in the target area.
Under Door Viewer

Look into a room before entering, using an under door viewer.

The rigged, yet lightweight under door viewer allows the operator to view under a door to covertly gather intelligence. It can also attatched to a 4'11". 8'9" or a 12'11" telescopic pole for remote viewing without exposing the officer to danger. Built in IR illumination and audio coming in May, 2006.
Tactical Articulating Fiberscope

CSS's Tactical High Resolution 4-way Articulating Fiberscope is ideal for covert surveillance and tactical operations. The fiberscope articulates in four directions allowing the operator to view into a room to covertly gather intelligence before entry.
| | |
| --- | --- |
| | Semi-Flex FiberscopeCSS's Semi-Flexible Fiberscopes are portable, rugged inspection surveillance and search devices capable of producing a high resolution image of critical components through access holes as small as 1.0mm. |