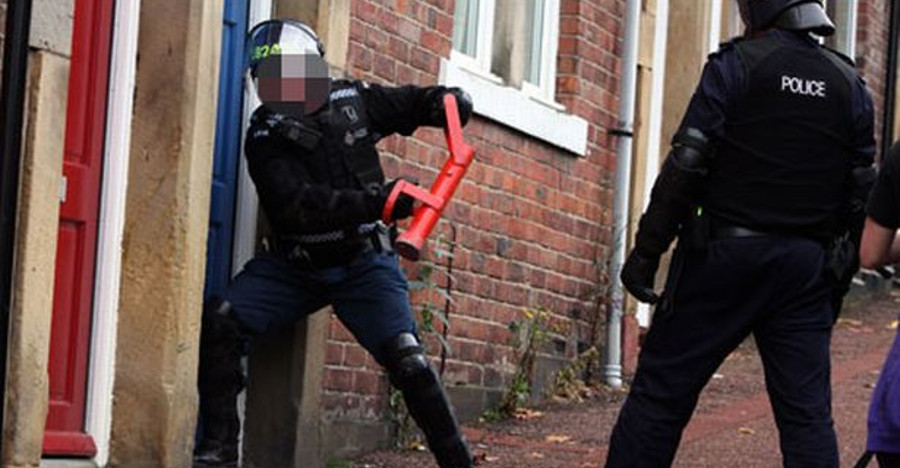 CSS offers tailored security solutions to Police, Special Task Forces, Army, Air force, Navy and Law Enforcement Agencies.
CSS has developed strong partnerships with product and service providers that share the same vision of exceeding our customer's expectations regarding state-of-the-art physical and structural security.The object of our cooperation is to provide innovative leadership in all aspects of security which means you will get the cutting edge, highest quality, and most cost-effective products.
RAM-IT DOOR RAMS.

The MINI-RAM joins the RAM-IT and RAM-IT 2 Door Rams which were originally developed for us SWAT teams but which are now regularly in use with most UK and many worldwide Police and military anti-drug and special operations teams.

The RAM-ITS could not be easier to use and no setting up time is required. Simply get in position in front of the door, swing the ram back to gain momentum and then swing it forward to open the toughest door
HYDRAULIC OMNI JAMB SPREADER.

This equipment, designed for Police and Military special forces assault teams, uses quiet hydraulic pressure to spread door – jambs and release latch its from mortises. The non-slip clutch allows the telescopic bar to hand-fit into the door opening. The operator then uses the hand pump, which exerts 3 tons of force – enough to break open most types of single doors.
HEAVY DUTY CARRYING SLING

This adjustable length, 2" black webbing carrying slings. With super-strong, quick- disconnect buckle, enables the ram's and Go-Bars to be carried on a shoulder or any way one wishes.
ASSAULT ENTRY KIT

A The Assault Entry Kit is an invaluable item in the inventory of any Police or military assault team and comprises the following:

Ram-it Door Ram.
30" Go-Bar.
Power sledge: This 10Ib sledge has an over-sized head for maximum impact.
The handle is made of I shock absorbing material top recent damage to the user.
2-in-1 Go-Bar.
GORILLA BAR

The spark-free Gorilla Bar is a precision-engineered and perfectly balanced forced entry tool. Spark-free tools are essential when working around volatile and inflammable chemicals (drug laboratories, vehicle cashes etc). The Gorilla Bar is made of rugged, yet intrinsically safe, spark-free superegos material cast onto an I textured steel shaft
GO-BARBREACHING BAR .

The 30'e Go-Bar is a multi-purpose tool designed for forced entry of doors and windows.

The 30". Go-Bar comes in a tactical black finish, and is made of one-piece forged graphite metal. An optional carrying sling enables a user to have use of both hands a when required. The equipment is virtually unbreakable – Policeman proof, in fact!

Multi-purpose edges
Working edges easily sharpened
Break and rake glass
4 Twist and pry lock open
Opens car trunks and doors
Lift paneling and floorboards
Use as a crowbar 49
2-In-1 GO-BAR

The 2-In-1 Go-Bar an extremely versatile initial that was designed for police use in forced entry operations. The tool consists of an 'A' type lock-Puller, a through-the-lock facilitator tool.

A shove knife and a gas and water shut-off slot. The 'A' type lock-puller's purpose is to extras lock cylinders and is also very useful for chopping inspection holes in doors and thin partition walls. The through-the lock facilitates tool manipulates the lock to be moved into the 'open' position and the shove-it knife helps force open spring latches and snap latches
T-N-T TOOL

Law enforcement officers deal on a daily basis with all types of emergency and non- emergency calls, which require the assistance of some sorrow tool. A variety of tools are usually required for forefeet entry, chopping padlocks, oiling eked agents, rescue operations and other tasks. Now a single, multi-function tool can be useful all these tasks – the T-N-T Tool.

The T-N-T Tool has been designed as multi- function oil comprising an axe, sledge hammers pry tool, pull tool and a cam. It is manufactured from high grade' heat-treated carbon steel and finished with a baked-on powder-coat paint, and the handle is made from solid flat black fiberglass.
DUCKBILL BREAKER .

The Duckbill Breaker is an outstanding tool for destroying disbands is a vital item in the armory of any police or Special Forces unities under taking any forced entry work.

Simply insert the Duckbill broke! Into the lock shackle, hit it with a sledgehammer and – hey presto – the lock is completely destroyed. The unit is supplied with a padded handle.
SUPER SNIP-IT BOLT CUTTER.

The super snip-It is now widely used by UK and other worldwide police and Special Forces units for fast entry and rescue applications.

The Super Snip-It is made of high strength chrome alloy and steel and has hedged cutters. The unit provides three tames the ice of ordinary cutters – simply rotate It for a new cutting edge.
SUPER SLEDGE HAMMER

The 16 lbs Super Sledge has a drop-forged head with an unbreakable, black fiberglass handle with textured grip.
RABBIT TOOL FORCIBLE ENTRY SYSTEM

The Rabbit Tool is a specialist tactical breaching tool designed for use by police and rescue provides maximum force in minimal time to open the most heavily fortified doors.

The system is supplied complete with manually operated hydraulic pump.6ft hose, cylinder and jaw assembly, pry bar, sledge, and hammer carrying bag with sling. When the Rabbit Tool is activated it exerts up to 8000 pounds of force In approximately 20 to 30 seconds to spread open a door 4 Inches (101 6 mm) from the jamb.
MULTI-LEVEL ASSAULT LADDER

The Multi-Level Assault Ladder is designed for use in a surprise assault through a window or door opening at first floor level and above. The ladder is capable of taking the weight of six fully armed and equipped operators using the ladder at the same time, and is already In use with the world's best serial forms unit.

The Multilevel Assault Ladder is made of aluminum to British Standard BS1474 for both the rung and stile sections. Both sections are deeply serrated to provide better grip to hand, foot and wall. The rungs are set into the stile using a special process, which securely locks them and will not loosen with use.
MARK 2 TELESCOPIC ASSAULT LADDER

The Mark 2 Telescopic Assault adder has replaced the original telescopic assault ladder, which was designed for, and is still widely used by, the world's leading Special Forces unit and serializes Police operations units. The ladder is made of high-strength, lightweight aircraft aluminum.
WIRE-SIDED FLEXIBLE LADDER.

Easy to rig
25cm or 30cm rung spacing
Can be stowed In small space
Minimal training required s
Up to 20 metres In length
Anodized aluminum alloy rungs
Can be ordered by the metre
Stainless steel wire sides

Originally developed for use in caving, the Wire-Sided Flexible Ladder has a wide range of applications in rescue work, quack entry and fast extraction . It can also be use in combination with our PLT Air Launcher, whereby a line can be fired by the PLT with one end attached to the Wire-sided Ladder.
SECURE DRUG/SAFETY DEPOSIT BOX.

With the ever increasing not to prevent drugs and small offensive weapons from king used on the street, SDMS has designed the Drugs/safety Deposit Box, which can be placed in hospitals, night clubs and other public locations.

Security personnel can place any confiscated drugs reasons into the box a and know they will remain out of circulation The Drugs/Safety Deposit Box is made of 3mm steel plate and can accept a confiscated article 100mm long x 220mm ' wide (4"x5") The article can be removed a by opening the door which is secured by two rugged and unique eleven pick locks.
CT3150 "COMBI" CUTTER/SPREADER RESCUE TOOL

The CT3150 is one of the most widely used rescue tools In use with Police and emergency services and act as a combined single tool for cutting, spreading and pulling It will exert an incredible stops of cutting force and 8.7 tons of spreading force.
EYEBALL

The EyeBall is a unique compact reconnaissance system using state-of-the-art technology for fighting terrorism. It is designed to provide vital information -day freight – to military special forces and SWAT teams without exposing them to danger prior to an attack.

The EyeBall system's sensors are incorporated within an extremely rugged rubber sphere the size of a tennis ball which, when rolled or thrown into a room like a grenade, comes to rest upright on the floor. The system enables real-time 360 omni-directional wireless video and audio transmissions are automatically transmitted to a nearby monitoring location, thus giving commanders a "front row seat" inside a terrorist's lair.
KEVLAR SLEEVES

The Kevlar Sleeves provide heat, flash and cut-resistant protection to the forearms of Police SWAT and military Special forces operators.

The Kevlar sleeves allow completely flexible arm movement, and are manufactured from double- knit black Kevlar. Sleeve sizes vary from small through to extra-large.
NOMEX@ SWAT HOOD

The lightweight, black-coloured Nomex@ Hood Is designed to provide heat and flash I protection to Police SWAT and Military Special Forces-type operators.

The 100% Nomex@ SWAT Hood Is made of breathable moisture-resistant material. It is washable and one size fits all.
FM3500 "FRISKMASTER MAX" CUT-RESISTANT GLOVE

The FM3500 "FRISKMASTER MAX" water-resistant, heavy-duty, black leather glove is designed to meet police and military specifications. It is manufactured from top quality, ultra-thin leather with an inner lining of Powershield that provides more protection from knife cuts and slashes than any other flexible glove currently available.
RAPID ENTRY COVERALL

The Rapid Entry Coverall has been designed specifically for Police and Military special all forces units. It uses a new material which is 58% .Nomex Delta A,40% Ripstop Kevlar and 2% Carbon Fibre, which makes it flame-proof, rip-resistant and anti-static and meets British Standard BS 5438.
POLICE HANDCUFF

This highly cost-effective, nickel-plated, high-tensile steel Police handcuffs currently in use with most UK and overseas Police Forces. The Police Handcuff is extremely easy-to-use and provides complete security. Two keys are provided with each pair of Handcuffs.
QUIK-CUFF HANDCUFF

The Quik-Cuff is the latest version of the original rigid snap-on handcuff built to the exacting design parameters of the US National Institute of Justice.

The strengthened steel quik-cuff has a satin nickel-plated finish and an ergonomically-moulded handgrip. The locking mechanism conforms to international standards and, being purpose-built, the rigid steel linkage connecting the two bracelets provides a strength unequalled by any other handcuff design.
ANTI-RIOT PROTECTIVE HELMET

The Anti-Riot protective Helmet is in use with most of the UK Police Forces and is also widely used by overseas Police and security forces.

The shell is constructed from glass fibre, giving extreme strength. The high-density expanded polystyrene, covered with foam backed material, provides extra comfort.
RIGID SIDE HANDLE BATON

The Rigid Side Handle Baton is a new UK-made product similar to the batons that are in use with US Police Forces. This baton has been thoroughly tested and, although more expensive than ordinary straight batons, has been found by all Police Forces using the baton to be considerably more elective.

The Rigid Side Handle baton is made of black polyamide and has a lifetime guarantee against breakage.
TELESCOPIC BATON

The Telescopic Baton is ideal for discrete use by security personnel who do not wish to be seen to be carrying more obvious polycarbonate or wooden batons. The baton is manufactured from aircraft frame hardened, high-carbon steel which is tempered to relieve stress and brittleness.
2-lN-1 HEADLAMP

The 2-in-1 is a highly versatile headlamp which combines both a high powered halgon bulb and a ultra bright LED light to provide hands –free illumination wherever one looks.

The 2..in-1'@ halogen bulb produces a bright 400 metre beam which can be focused from spot to wide-angle. The ultra-bright LED is ideal for close-up work and uses the latest LED technology, which consumes very little power and will operate for over 100 hours.
PANTHER HEAVY DUTY RECHARGEABLE TORCH

• 1 mile range

• Mains and vehicle charger

• Virtually unbreakable

• LED low battery indicator

• Over 1 million candlepower

The new Panther Heavy Duty Rechargeable searchlight is very competitively priced and is virtually unbreakable. It provides a light source over 1 million candle- power, or approximately 1 mile range.
NIGHTSEARCHER FLASHLIGHT RECHARGEABLE SEARCHLIGHT

The new night searcher Flashlight D is a competitively priced, portable searchlight designed for security and rescue operations.

The Nightsearcher Flashlight D is completely water-resistant and bas a focusing beam which can be quickly adjusted for wide angle or pin spot.

• Machined aluminum with grip finish

• Water-resistant

• Rechargeable up to 1000 times

• Krypton bulb

• Shatter-proof lens

• Spare bulb enclosed in end cap

• Adjustable is from spot to flood

• Lightweight

• Competitively priced

• 1 hour continuous running
LG2 INTRINSICALLYSAFE TORCH

• Highest safety rating available anywhere

• Weather resistant, high impact plastic body

• Morse code switch

• No less than 12 hours continous operation

The LG2 Intrinsically Safe Torch is the latest addition to the SDMS range of torches and floodlights. It has been designed and tested for use in potentially explosive atmospheres where safety is paramount.
2000 MAXI PORTABLE FLOODLIGHT

The 2000 Maxi Portable Rechargeable Fluorescent Floodlight lasts up to 10 hours per single charge. It is powered by a compact 42 watt fluorescent light unit with newly designed reflector which produces a brilliant white Iight equivalent to a 300 watt light.

The 2000 Maxi's robust polypropylene case can be mounted direct onto the battery pack, extension pole, gripper and magnetic suction base. It extends to a height of approximately 2.2 metres and the light can twist or swivel to any position. Battery life is up to 5 years or approx. 1000 charges, and lamp life is approx. 10,000 hours. Full recharge takes place in 5 hours.
ICE LIGHT INFRA -RED LIGHT

Ice Light provides an infra.-red 'black light' which is invisible to the human eye but, when used in conjunction with light vision equipment, will brightly illuminate a room or area for SWAT or military special operations teams.

The equipment features two user- selectable modes of operation: Constant 'On' for constant illumination of an area and 'Flash' mode which provides 360 pattern for landing sights and target marking.
SPIKE-IT ROAD-BLOCKING BARRIER

Spike-It is a very rugged, portable barrier specifically developed for police and Military personnel to be able to stop vehicles instantly. Designed for use by one person, it is an inexpensive tool which can deployed in seconds at a road block, or alternatively it can be used semi-permanently to protect a target building. Any vehicle passing over he Spike-it, traveling at any speed, will have its tyres instantly deflated by 60mm spikes quickly, safely and effectively.

Spike-it is uniquely designed and ruggedly constructed from hardened galvanized steel with stainless steel fittings. Its operation could not be easier – simply slide it out of its carrying cease and fold it out to its fully extended length of approximately 15 feet or 450mm.
SPIKE IT 2 ROAD BLOCKING BARRIER

The spike-It 2 is a lighter weight version of the original Spike-It Road Barrier. It comes as a complete kit and consists of two separate sections, each of which can extend out to 3 metres and contains 45 spikes.

The spike –It 2 is made of a mix of Nylon 66 and glass fibre, which makes it

flexible yet firm. The 50mm long and 4mm diameter stainless steel spikes will penetrate though virtually all types of tyre.
PLT MINI PORTABLEAIR LAUNCHER

The new PLT Mini Portable Air Launcher uses commonly available compressed air to free a grapnel either from the shoulder or from a solid point on the ground. It is designed ferule by military and police special forces, as well as rescue services.

The PLT Mini Air launchers a titanium grapnel, together with 3mm diameter pilot line with a breaking strain of 180kg. The horizontal range is approximately 75 metres and the vertical range with double came pilot line, is approximately 35 metres.
PD-350 PORTABLE FORGERY DETECTION SYSTEM

The new (year2005) PD-350 is a compacting versatile Forgery Detection System for the inspection of all types of security document where mains power is unavailable or intermittent.

The PD-350 is designed for use with Police, Customs, Immigration Officers and BorderGuards when there is a need to examine documents al crime scenes, on mobile patrols at airport departure and arrival pates or on board ship. With up to 6 different types of light source most current document security features can be checked and verified. This powerful equipment ensures that counterfeits and forgeries can be quickly detracted without damaging the document.