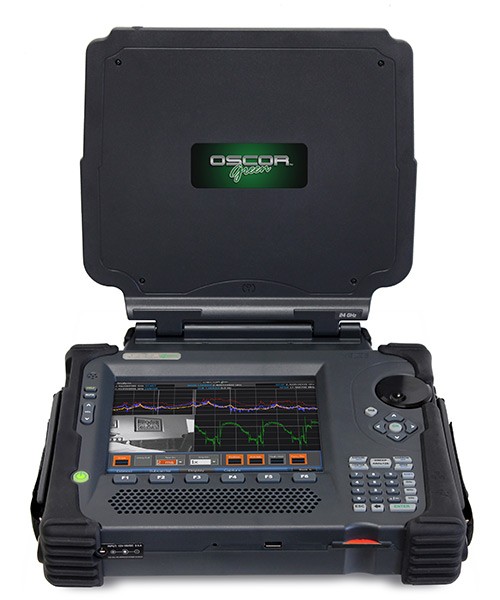 Research Electronics International, LLC (REI) is one of the world's leading manufacturers of Electronic Detection and Testing Equipment for Security Applications.
Based in Cookeville, Tennessee, USA, REI specializes in Radio Frequency (RF) Detectors, Non-Linear Junction Detectors (NLJDs,) Telephone & Line Inspection Equipment, Audio Security Equipment (including Acoustic Noise Generators,) Video Inspection and Physical Inspection Equipment to locate Electronic Bugs or Eavesdropping Devices.
CSSPakistan in proud association with REI LLC brings you OSCOR™ Green Spectrum Analyzer.
Portable RF Detection & Analysis
The OSCOR Green Spectrum Analyzer is designed to detect illicit eavesdropping signals, perform site surveys for communication systems, conduct radio frequency (RF) emissions analysis, and investigate misuse of the RF spectrum. The OSCOR Green is a portable spectrum analyzer that sweeps 24 GHz in one second to quickly detect transmitting electronic surveillance devices and ensure that spectrum activity is captured.
Efficiency:  reference and target traces are quickly attained, stored, and compared for rapid analysis and a waterfall display generates a spectrogram of receiver traces over time
Usability:  employs a touch screen interface, remote access capabilities, and built-in software
Portability:  weighs less than ten pounds and does not require additional antennas or cables; battery power lasts 3-4 hours
1. Features
Scans 24 GHz in 1 second ensuring spectrum activity is captured (2,000,000 data points per second)
Built-in software and auto switching antenna system to 24 GHz means no additional antennas, cables, or laptop are required
Touch screen allows you to pan, zoom, drag, and move
The lightweight unit weighs only 9.6 lbs/4.4 kg providing bench-top spectrum analyzer capabilities in portable design
Battery run time is 3-4 hours
RF traces are easily mapped; reference and target traces are quickly captured, stored, and compared (including differences) for rapid analysis
Quickly identify localized RF energy transmissions and generate signal lists
Spectrogram (Waterfall) display generates Spectrogram of receiver traces over time
Built in demodulators: AM, FM, SSB, subcarrier, and video (displayed on screen)
Connect remotely to the OSCOR Green™ with 3rd party virtual network computing software
2. Applications
Technical Surveillance Countermeasures (TSCM)
Counter Surveillance
Radio Frequency (RF) Detection
Radio Frequency (RF) Analysis
Spectrum Analysis
Signal Analysis
Intelligence Protection
Executive Protection
Eavesdropping Detection
Surveillance Equipment Detection
Electronic Surveillance Detection
3. Specifications
RF SYSTEM – 8 GHz and 24 GHz models available

Frequency:
8 GHz model – 10 kHz to 8 GHz
24 GHz model – 10 kHz to 24 GHz
Displayed Average Noise Level (DANL) at 25 kHz resolution bandwidth:
Without preamplifier = -100 dBm
With preamplifier = -110 dBm
Sweep speed: 24 GHz/second
Preamplifier: DC-8 GHz – 10 dB
Attenuation: DC-24 GHz – 0 dB, -10 dB, -20 dB, -30 dB
Dynamic range:
Min/max range: 90 dB
SFDR: 80 dB
AUDIO SYSTEM
Demodulation types: AM, FM
Filters sizes: 800 kHz, 200 kHz, 12.5 kHz, 6.25 kHz, 2 kHz
Subcarrier filters: 6.25 kHz, 12.5 kHz, 200 kHz
Headphone output (low leakage headphones included)
Built-in speakers
VIDEO SYSTEM
Formats: NTSC, PAL, SECAM
Demodulation: AM, FM
Filter sizes: 12.75 MHz, 6.375 MHz
Subcarrier filters: 6.25 kHz, 12.5 kHz, 200 kHz
ANTENNA SYSTEM
Built-in auto switching antenna system
Frequency:
8GHz Model – 10 kHz to 8 GHz
24GHz Model – 10 kHz to 24 GHz
INPUTS/OUTPUTS
Aux RF in: 10 kHz to 8 GHz
IF out: 25 MHz wide centered at 75 MHz
Baseband out: DC – 6 MHz
Expansion: Aux control port for MPP
USER INTERFACE
Integrated touch screen with 8.4" display
Soft keys and rotary optical encoder
USB port (A type): for peripherals (keyboard, mouse)
POWER SUPPLY
Universal power supply included: 100-240 VAC, 50-60 Hz
Removable battery: Rechargeable Lithium ion, 4-hour runtime (typical)
MECHANICAL
Dimensions: 11.5 in x 13.2 in x 3.0 in (29.2 cm x 33.5 cm x 7.6 cm)
Unit weight with battery: 9.6 lbs (4.4 kg)
Case dimensions: 5.4 in x 14.9 in x 19.5 in (14 cm x 37.8 cm x 49.5 cm)
Case weight including unit and accessories: 21.0 lbs (9.5 kg)
THERMAL
Operating temperature: 0°C to +50°C
Note: It is recommended to run the unit on battery power above +40°C. The supplied AC adapter's operating temperature is 0°C to +40°C.
5. Included Accessories
Probes & Antennas
Multi-Purpose Probe
The MPP plugs into the auxiliary port for capturing carrier current signals, coax, VLF magnetic loop, infrared, and visible light transmissions.
Directional Antenna
The directional antenna makes locating transmitters easier and is handheld or can be clipped to the antenna panel. Range: 1.5 GHz to 8 GHz
Whip Antenna
The whip antenna plugs into the extension connector on top of the antenna panel to improve low frequency reception.
Power
Lithium-ion Rechargeable Battery – 8.7Ah
An 8.7 amp hour lithium-ion battery for the following REI products: OSCOR Green, OSCOR Blue, & TALAN 3.0.
6. Data Viewer Software
The Data Viewer Software allows OSCOR Blue and OSCOR Green users to open, view, analyze, organize, export, and print saved data files on a PC.
The Data Viewer works with the following file types:
Trace files – Peak or Average trace files display in a graph view with zoom and scroll capability. Multiple trace files can be layered in one graph view for comparison.
Signal Lists – displays frequency, bandwidth, amplitude, and date. Can be exported to .csv or .html file format for further analysis.
Images – displays screenshots, raster waterfall and other images.
Audio files – demodulated audio selected in the software will launch default media player to play back audio.
Can analyze OSCOR Blue Trace Record Waterfall or OSCOR Green Spectrogram files.
Download the Data Viewer software and run installation on a Windows XP, Vista, 7, 8, or 10 Operating System. Microsoft .Net Framework Version 4 may also be required. From the OSCOR, .peak, .avg, .png, .wav and .signals files can be saved to the Compact Flash or a USB device and then transferred to the PC. From the File/Open menu, select the desired files to open. A Quickstart guide is available in the Help menu.