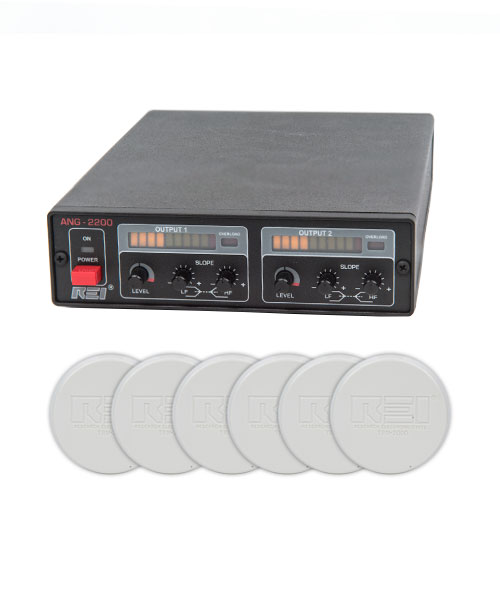 Research Electronics International, LLC (REI) is one of the world's leading manufacturers of Electronic Detection and Testing Equipment for Security Applications.
Based in Cookeville, Tennessee, USA, REI specializes in Radio Frequency (RF) Detectors, Non-Linear Junction Detectors (NLJDs,) Telephone & Line Inspection Equipment, Audio Security Equipment (including Acoustic Noise Generators,) Video Inspection and Physical Inspection Equipment to locate Electronic Bugs or Eavesdropping Devices.
CSSPakistan in proud association with REI LLC brings you ANG-2200 Acoustic Noise Generator.
Protect Private Conversations
The ANG-2200 Acoustic Noise Generator creates a perimeter of noise that defeats acoustic leakage eavesdropping devices including wired microphones inside walls, contact microphones, audio transmitters located in AC outlets, and laser/microwave reflections from windows.
Efficiency: offers two channels, each with high and low frequency control to compensate for material composition, with truly random noise sources
Usability: masking system injects noise into the environment perimeter and not directly into the environment—allowing normal conversation while defeating eavesdropping devices
Portability: optional accessories (transducer, omnidirectional speaker, window mounts) can be purchased to tailor the ANG-2200 to the environment of concern
1. Features
Two separate channels
Truly random noise sources
High and low frequency controls
Overload protection
2. Applications
Technical Surveillance Countermeasures (TSCM)
Counter Surveillance
Audio Masking
Noise Generation
Eavesdropping Prevention
Intelligence Protection
Executive Protection
3. Specifications
CHANNEL
Independent random noise source
Output voltage: 12 Vp-p @ 6 Ω (2 Ω min load)
Frequency range: 125 Hz – 4 kHz
Equalizer: LF 180 Hz ± 12 dB, HF 3 kHz ± 12 dB
POWER
15 VDC @ 1 A (AC adaptor supplied for 120 or 240 VAC)
MECHANICAL
Unit dimensions: 1.6 x 5.5 x 8 in  (4.1 x 14.0 x 20.3 cm)
Unit weight:  1.3 lb. (590 g)
5. Included Accessories
There are currently no accessories associated with this product.