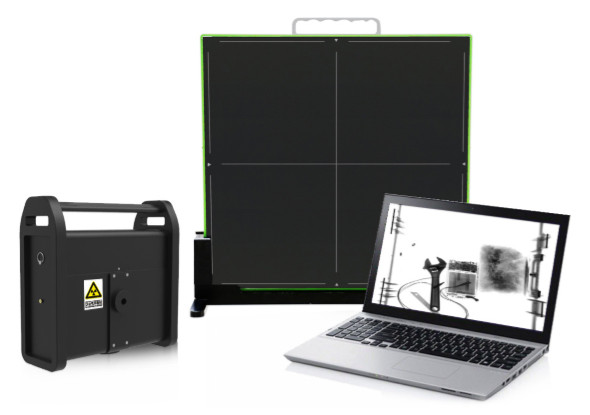 Sharpshooter Series 5010-BC is a portable security screening system. It is effective in the detection of various contrabands like explosives or drugs concealed in the suspicious luggage. Light in weight, quick in deployment, simple in operation, with high penetrability and high resolution, this system effectively reduces the risk of security inspection and explosives disposal. It is widely adopted in public security, criminal investigation, border patrol as well as in military.
Light in weight, easy to carry.
Simple installation within 5 minutes.
High sensitivity, strong penetration ability.
High image resolution, wider image scope.
Complete set of cable/wireless connection device.
Long working hours, hot plug battery system to support continuous working.
Performance Parameters
Spatial Resolution: ≥3.2lp/mm
Active Area: 43x43cm
Grey Level: 16 bits
Penetrability 20mm Steel
Resolution >40AWG
Communication Port: Ethernet/WIFI
Image Reading Time: 4-6s
Tube Voltage of Generator: 50-120kV
Tube Current of Generator: 0.1-1mA
System Power Supply
Max Power: 500W
Working Voltage: AC 180-240V
Working Frequency: 50-60Hz
System Image Processing Functions
Basic Functions: Edge Enhancement, Color Reverse, Zoom-in/out, Horizontal/Vertical Rotation.
Image Storage: Option to store images or not.
Image Index: Images in storage can be indexed against parameters like operator ID, scanning time etc.
Safety of Images in Storage: Only authorized personnel are allowed to delete images in storage.
Image of Dangerous Objects: Frame of dangerous object can be marked out.
Network Communication: This system can be checked, controlled and troubleshooted in remote through standard network port.
Timing and Counting: Timing on system working hours. Counts number of detections.
System Working Environment
Temperature Range: 5℃~40℃
Humidity Range: ≤75%
Atmosphere Pressure Range: 700hPa~1060hPa